If you are exhausted from using youtube and now want to remove it from your life for good. Then here's all the information and guide on how to delete youtube channels.
Youtube is a vast video platform. Since millions of people are using youtube, there are continuous changes in the application, and these changes can be a little confusing for some.
As it is said, everything has its good and evil side, and it is the same for youtube. For some people, it is good, while for others, it's terrible.
There are loads of reasons to delete youtube. Such as-
Ads:

there's no doubt in it that youtube ads are a good way of making money, and it's also very alluring for new creators. But the bitter truth is, you won't benefit from ads unless and until there are hundreds and thousands of views on your channel. And sad to say but, for most small channels, the ads will eventually create interference which will distract people from the original content.
Autoplaying:

youtube has statistically designed its "Recommended" feature to guide viewers in finding the content they are keen on, despite that it also keeps the viewers on Youtube for a longer time. This increases the chances that the following video will not be from your channel, even if the viewer has moved to your channel deliberately to view your content.
The youtube-centric format:

the youtube videos are not very customizable. The channels have that same old white background with red buttons organized according to most popular videos. This isn't that terrible, yet it can be much better.
Daily updates:

as I said earlier, youtube can be confusing sometimes. Whilst, changes in the statistics can be creative and fascinating. Still, at the same time, they can be frustrating and uncertain, particularly when you are leaning on your videos regularly.
As youtube grows, it will continue making changes that will help the company succeed, and if these changes align with your creativity, then it's good. However, if that's not the case, then it's time to move on. 
If you are experiencing similar conditions, then here's the manual for deleting your youtube channel.
How To Delete YouTube Channel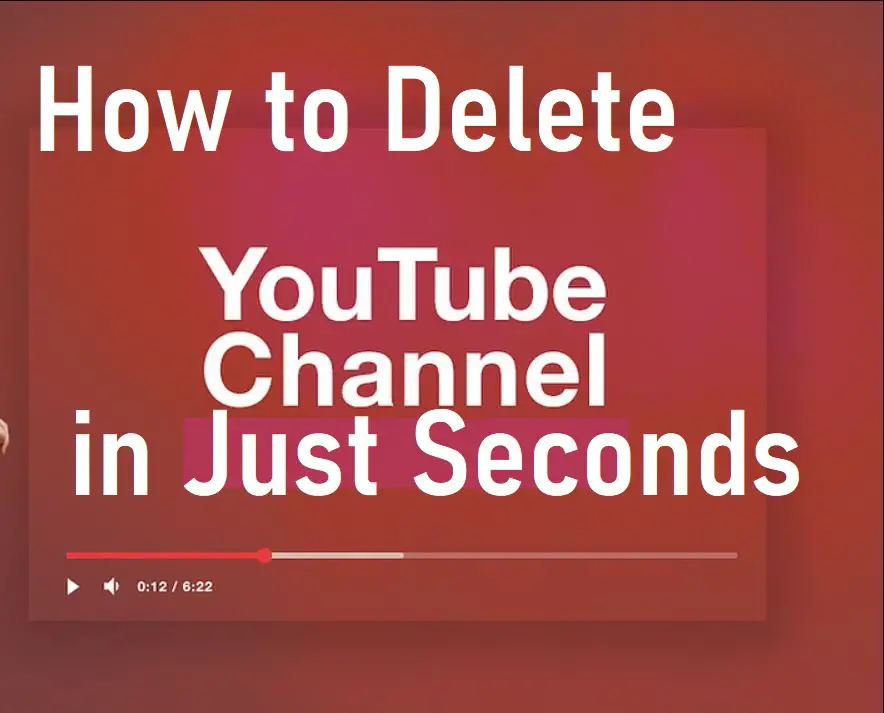 Removing your youtube channel may seem like rocket science, but it's elementary. You can delete youtube channel in just ten minutes by following the below-given steps.
Open youtube and sign in to the channel you want to delete.

In the top-right corner, open "your account" by clicking on it.

After that, mouseclick on the "youtube settings" option.

Below the "account settings" option, click on the "overview".

You will see your channel's name there. Under your channel's name, select the "advanced" tab.

At the bottom of the screen, look for the "delete content/channel" option. Select the same. If asked, enter your sign in details.

Click the option that says, "I want to delete my content permanently".

Now, tick the checkbox to confirm that you want to delete your youtube channel.

In the end, Press the "delete my channel" button.
By this, your youtube channel will get deleted along with all the information related to your channel like your videos, views, likes, comments and watch time. And your channel link and name will also not be visible on the app.
Important Point To Remember-
There is some crucial information that you should look for before deciding to remove your youtube channel.
Once you decide to remove your youtube channel permanently, you will also lose all the videos you have posted on your channel and all the views, likes, and comments.

Youtube also gives an option to hide your channel. It is a reversible step to remove your videos straight through your channel momentarily. However, your channel name will still be visible to others.

Deleting a YouTube channel permanently takes only a few minutes. However, you cannot bring it back once you have deleted your channel. So, move forward only if you are confident.
In the process of deleting your channel, you will also see the option of hiding your channel.
When filling the checkbox for the option "I want to delete my channel", there will be another option saying, "I want to hide my content".
If you are unsure of your decision, you can blue tick the checkbox against the "I want to hide my content" option for temporarily hiding your videos.
Now that you know how to delete youtube channel, you can do it by yourself in minutes.
       How to Delete Microsoft Account