Apple loves to introduce advanced features in its gadgets! According to the Wall Street Journal report, recently, Apple wants to introduce several advanced health features for the Apple Watch. The source claims that Apple will include features like the ability to measure blood pressure and body temperature.
No doubt there is a possibility that Apple can provide these features in its watch, but it's challenging to say that they will introduce these features soon in their next announcement. Yes! It may take a long time to introduce these features, or maybe more smart health features also in upcoming days from Apple.
Fertility and blood pressure feature in upcoming Apple Watch 
The report says Apple is working on several health features and is now mainly focusing on blood pressure tracking and a thermometer that can help plan fertility. No doubt that these features are already there on wrist-based wearables but not in the Apple Watch. Before that, Omron launched the first-ever FDA-approved blood pressure smartwatch in 2019, and later on, Samsung also included the blood pressure feature in its smartwatches.
When it comes to fertility tracker, Ava did an awesome job introducing a fertility tracker that can measure both body temperature and help couples provide the best time period trying to conceive. Fitbit is another top-rated smartwatch manufacturer that added body temperature sensors in its sense smartwatch.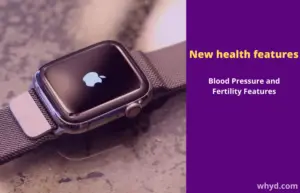 Some advanced health features Apple already introduced
Surprisingly, Apple is exploring and testing all these advanced health features to add to their Apple Watch because many reputed brands have already introduced these features for years. Apple also included many health features in its previously added health features like detailed sleep tracking, cardio fitness metrics, SpO2 sensors in the Apple 6 series, and watch OS7. As per the experts, Apple never includes any features until its 100% sure about its benefits and effectiveness in real-time use for users. It's everything about how Apple can change the technology and bring it in a new form in its gadgets, and for this, we have to wait for the launch of these features along with new series of Apple watches.
The Wall Street Journal claims that Apple's blood pressure measuring feature would provide the user's blood pressure measurement in terms of how their blood pressure graph was trending without diastolic and baseline systolic measurement. This is just amazing that Apple did an excellent job in this feature that many tech giants can't really do! Most of the advanced smartwatch sensors can't really do this till now.
The report says Apple is trying something different to effectively approximate traditional blood pressure calibration devices by measuring the speed of the heartbeat wave sent by the person's arteries. Undoubtedly, the research team of Apple is exploring deep to bring drastic changes in advanced health features in their upcoming smartwatches without any defect with the same design as the current Apple Watch.
Some source claims that Apple will introduce the temperature sensor to its watches in 2021 which will help women track ovulation period and fever. Recently, Apple researchers began studying women's health care, which will definitely help the team bring advanced health features in their upcoming Apple Watch. No doubt Apple will bring the best health care features in the future in their Apple watches, but everything can't be all of sudden; we have to keep patience for it.
Also Read: Apple will relax App Store Rules