According to Apple officials, Now they will relax App Store rules allow companies like Netflix and Spotify to direct customers to their respective sites for payment; this will definitely cost users less as they can easily avoid the extra fees taken by the App Store.
After a long fight with app developers, Apple finally decided to relax the developers on Wednesday. This rule will soon apply effectively in early 2022 and applies worldwide, in which the apps developers are allowed to put external links to external websites. Users can easily manage their accounts there without any extra charges.
According to Apple, those Apps usually provide previously purchased content or subscription for newspapers, audio, and books. Some of the great examples are Amazon Kindle and video as examples of reader apps.
Relax App Store rules-Stand of Netflix & Spotify  
Though Spotify and Netflix once allowed their users to pay services in-app, later on, they always stopped for the new members amid a strong dispute with Apple over the huge charges as commission. In such cases, downloading the Netflix app will allow you to sign it, but you should have an existing account. Otherwise, you can't join, and it will show you a notification in which you will get a message that Joins and come back once you have an account.
Though Spotify did not immediately comment on this, on the other hand, Netflix declined to comment, which was very surprising.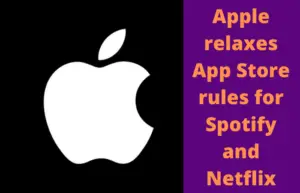 How it affects developers
To ensure safety and flawless user experience, Apple said that the App store guidelines need developers to sell their digital services and relevant subscription via the Apple in-app payment system. Now Apple also said that it will allow the change because the readers are now not offering digital goods and services for purchase.
The update will definitely help some developers bypass heavy charges imposed by Apple. The company can increase its commission up to 30% on purchasing the same product via its platform. Many developers have said they have no other choices left since Apple is not permitting customers to download apps from any other source rather than its own store.
Divide and conquer?
This issue is still under the investigation of EU antitrust, and Epic Games brought a lawsuit against Apple on this matter. According to Epic CEO Tim Sweeney's tweet, now Apple is doing divide and conquer by offering some special deals to some of the leading media apps.
According to Sweeney, Apple should open up iOS in terms of payments, services, and hardware.
After one weak of this statement, Apple announced and said they are going to relax some of the major restrictions on iPhone apps developers, and now they can communicate with customers outside of its App Store. Apple also confirmed that the developers could communicate via email and share the payment information outside of their store app.
Also read: Realme Pad official teaser Revealed