Realme recently stepped into the laptop segment to expand its business. This smartphone manufacturer is all set to launch its Android tablet soon in India. Realme India CEO Madhav Sheth recently updated the new Realme Pad and revealed the official look of this new gadget.
The tweet of Madhav Sheth regarding the new Realme Pad
Madhav Sheth shares the first-ever look of Realme Pad on Twitter. He tweeted the image of the upcoming new tablet from their brand and wrote about how compact it will be, and he said you could easily carry this Realme pad anywhere you want for work or entertainment purposes. He also mentioned that it would be challenging for users to hold this device for too long. He also said users might need a really light and slim one for ease in the next line. He mentioned via tweet that they have a solution for this issue, but users have to stay tuned for the upcoming things.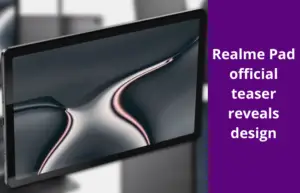 What will be the body design and specification of the Realme Pad?
According to Realme, the pad will be the slimmest tablet in the price segment, and you will get a MediaTek helio G80 chipset in it. When it comes to the display, it will be a 10.4-inch FHD+display and will be supported by a powerful 7000mAh battery.
Recently one online report revealed that Realme is confirmed the launch of the new tablet Realme Pad on 9th September. According to that report, this brand will also launch its Realme 8i and Realme 8s with this Android tablet and some other IoT products.
Recently, Realme launched its new Realme Book Slim laptop in India, and users are delighted with it. This laptop was powered by 11 generation Intel processor and ran on Windows 10 operating system. No doubt, this is one of the affordable laptops having a solid metallic design. Realme claims that this laptop is the slimmest product ever in its price range.
Recently Realme has launched two Realme Slim books with two variants. The 11th generation powers these two variants, and the base model comes with a Core i3 processor and comes at an amazing price of 46,999 rupees. On the other hand, the other model has a powerful Intel i5 processor, costing around 56,999 rupees.
The expected price of Realme Pad
As per the source, the expected price of the Realme Pad maybe somehow be around 22,999, and it may come with 4 GB RAM, fast charging support along with 8-megapixel primary camera, and an 8-megapixel front camera. You will also see USB type-c Port on this lucrative tablet from Realme.
This tiny pad will undoubtedly be an absolute powerhouse that can offer lag-free operation and seamless visuals. You may also get a 4G voice calling feature with this device. If you are looking for a powerful budget tablet, then Realme Pad may be one of the best options for you.
Also Read: Vivo X70 Pro+ Specifications