Before the official launch of 5G services in India, Airtel successfully arranged a 5G trial session for gaming to test the optimum speed limit the Airtel could reach for cloud gaming. This trial was successfully done using the powerful 3500MHz high capacity spectrum band especially provided by the Department of Telecom. Ericson and Nokia are two companies who were the partner of Airtel for this huge 5G trial session.
In this trial session, Airtel has invited professional gamers like Mamba and Mortal to check the performance for a session on the reputed gaming platform Blacknut. Both of them played Asphalt on the new OnePlus 9R handset.
How fast can Airtel 5G be?
Until now, the 5G network of Airtel is not available commercially, which is why we can't get more clarity now. To get more clarity on it, we have to wait for Airtel 5G services next year. As of now, the report says the Airtel has tested the 5G SIMs on a trial basis. The result was amazing as it delivers a speed of above 1Gbps and offers a latency in the range of 10 milliseconds which is remarkable.
If you compare this stat with India's current 4G mobile internet speed, you can clearly mark a latency difference of 40. On the other hand, the average download speed of 4G mobile internet is somewhere around 17.77 Mbps & upload speed is 5.09 Mbps as per the data of Speedtest Global Index.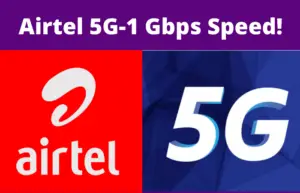 Airtel 5G services & Cloud gaming  
According to Airtel, the 5G network service will positively impact cloud gaming and offer an improved lag-free gaming experience. According to experts, a 5G network will definitely assist gaming platforms like Blacknut where gamers enjoy real-time gaming without installing a game on any device.
In a statement, the Bharti Airtel, CTO, Randeep Sekhon said that "Cloud gaming will be one of the major use cases of 5G thanks to the combo of high-speed intent and low latency". According to experts, cloud gaming performance will definitely depend on the hardware specifications and configuration of the device; still, you will get better performance on cloud gaming if you use Airtel 5G network. If you use top-end hardware or mobile with advanced hardware specifications, you will experience the best cloud gaming experience ever!
Airtel also stated that India has the highest youth population, and mobile gaming can grow up to $2.4 billion in markets soon. No doubt, in the next few years, the use of smartphones will grow like never before, and the 5G network will help enhance the gaming experience for the young generation. Recently, Airtel arranged several trial sessions for its 5G services in Hyderabad, and the company is also arranging several 5G trials in different cities across India.
Also read: Apple will relax App Store Rules for Services