The report of Nikkei Asia claims that Google is working on an in-house chip processor(ARM-Based Chips) for its upcoming tablets and Chromebooks. Chromebooks are known for their amazing performance and smooth processing! If you are a Chromebook lover, then this is good news for you that you could find Google chips in its Chromebooks and tablets in the upcoming days. According to tech experts, the in-house chips of Google may be introduced in early 2023 on every Chromebook and Google tablet.
According to a report, Google is already making its own mobile chips, and you can expect the first-ever good chipset used in the Pixel 6 handset. The report of Nikkei Asia stated that Google was inspired by the launch of the A-SERIES processor of Apple for iPhones and later on the M1 chip last year. Like Apple, Google also wants to build a high-end process that will be an ARM-based processor.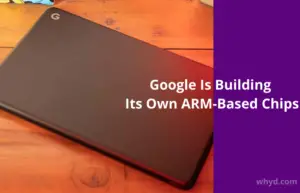 Benefits of  in-house chip processor  like ARM-Based Chips 
Now the question is, what will be the benefit of own processor? The answer is pretty simple; it is only because the in-house processor will always allow customizing a processor to fulfill its needs. The concept is somehow like you will always get fitter clothes from a tailor rather than getting off the rack or from the direct shop.
Own design processors can definitely restrict others from copying your concept and definitely make your product unique and special along with useful features. If you think Google and Apple are two big companies digging into in-house production, then you are wrong! Now other big companies like Samsung are also doing in-house production, and recently Exynos chip is one of the popular products of Samsung In-house production. Huawei has also manufactured its in-house Kirin Silicon and uses its product and gets good responses from the users.
The best example of In-house Chip production
Samsung Galaxy Watch 4 is one of the great examples of in-house chip production. Samsung has used its own chipset in this watch. But unfortunately, there are still other brands depending on Qualcomm to produce Chips; Samsung is using Exynos wearable chipset on its smartwatches. That's the only reason now Samsung can provide so many amazing and advanced features on Android smartwatches than its competitors.
Now Samsung has combined forces with Google; as a result, all of its watches are now offering amazing processing power, which is only possible because of its 5nm Exynos chips. But other Android smartwatch manufacturers are still using old, or you can say outdated, Qualcomm wearable processors.
Undoubtedly, the in-house manufacturing trend is not great news for companies that manufacture chipsets like Intel, Nvidia, Mediatek, and Qualcomm. But for any new company to go with in-house chip manufacturing because it needs huge investment and technical infrastructure. Big companies like Google and Apple can handle huge investments in the in-house manufacturing of chips to develop advanced and powerful processors.
We all know technology is growing rapidly like never before, and people enjoy advanced technology and features. No doubt Google's in-house Tensor chip will be a good one for future devices. Hopefully, the ARM-based chips for Chromebook can perform best in the market.
Also Read: Apple Watch May Get Blood Pressure and Fertility Features