Recently Google confirms that the second generation new Nest Doorbell Cam can't do continuous video recording even if connected with a power wire! No doubt Nest Doorbell is the first-ever second-generation battery-powered device of Google. This gadget comes with several battery-saving features, but Google also provides the facility to plug this device via power wire, not supporting video recording.
Why can't Nest Doorbell Cam record all time?
In a statement, Google says that the Nest Doorbell Cam can't record all time because the wiring of the battery powdered Nest Doorbell causes thermal challenges as the device is tiny and can't dissipate enough heat to stay regulated.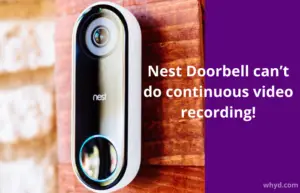 Statement of Google spokesperson and community Manger
This statement first came from the official Nest sub-reedit platform.  According to the leak, Google spokesperson confirmed that heat is the only reason the new Nest Doorbell cam cant record when it is under power wire.
The spokesperson also gave the response to some other queries! To answer whether the new wired devices can record 24/7 hours, the community manager of Google said continuous video recording is a feature available on devices except for the battery-powered Nest doorbell cam. Also added to avoid the thermal challenges, we have to make the doorbell bigger.
In another public service announcement, the community manager also mentioned the same thing and said the solution could be the larger hardware enclosures before many people confirmed the plastic wrapping around the doorbell after long use. This issue usually happens because of the sunlight and heat. Overall you can say heat and sunlight is the main reason behind this plastic wrapping issue.
In a public service announcement, Google also stated that the users have to take care of the doorbell camera from contentious combust. Google is also very much concerned about its manufacturing for its outdoor hardware. According to experts, if there are so many issues with continuous recording, there is no point in keeping this feature in Nest Doorbell Cam. So if you want continuous video recording, it's recommended to go with a wired configuration.
What can users do?    
The original wired Nest Doorbell camera is still available for purchase with 24/7 connectivity. It will be exciting how people react to this new Nest Doorbell Cam. Hopefully, Google will work on the size of the Nest door cam in the future and fix the thermal issues for continuous video recording.
If you want a Google Nest Camera with a continuous recording feature, you can also choose other models of Google available in the store. Hopefully, we will see the fix soon from Google's manufacturing side, and users can enjoy continuous recording even with battery-powered New Nest Doorbell Cam.
Also Read:  Google's Own ARM-based chips for Chromebook