Twitter is one of the most popular social media platforms in the current day. To make this platform better and toxic-free, Twitter is planning to bring some fresh features that will fully focus on greater privacy customization.
Expected Privacy changes of Twitter
Now the question is, what changes can Twitter bring? The report says Twitter may bring functions that will help users control when, who, why, and what. One report according to Bloomberg recently certain Twitter users hesitate to tweet because they feel uncomfortable by thinking about who can view their tweets or follow them.
According to tweeter spokesperson, all these new features are specially introduced to provide extra safety to users regarding their conversation. Overall, Twitter thinks social privacy is crucial and mandatory for users for their self-expression.  When it comes to when Twitter will introduce these privacy changes, Twitter confirmed that all these features would be rolled out soon, maybe from the next week.
Twitter also hints at some of the privacy features that will be introduced soon, so let's know more about those features.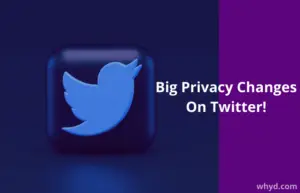 Expected Features on Privacy changes  
These are some of the expected privacy changes of Twitter may roll outs
1]Hide or Archive Older Tweets
The most interesting privacy change of Twitter feature may be going to roll out by Twitter is hiding older Tweets. This feature will allow several users to hide their old immature or embracing tweets. According to a Bloomberg report, Twitter may introduce the feature which will allow users to hide posts after 30, 60, and 90 days or hide Twitter after one complete year. This feature is only in the conceptual stage; there is no confirmation about this feature from Twitter yet.
2]Easily peace out from the terrible or toxic conversation.
Now on Twitter, it's tough to peace out from terrible or toxic conversion, which definitely spread hate and negativity among people. According to the report, Twitter may roll out leave a Twitter conversation whenever you want, which will untag a link to your profile within that conversation thread. Though Twitter agreed about the rollout of this feature still, it will be tested first later on this year.
3]Remove Followers
As of now, if you want to avoid any followers, then you have to block them from your profile, but Twitter is planning to bring a follower removal option in the future, which will allow users to boot undesirable profiles you want to remove. No doubt, this is going to be a handy feature for everyone. This will definitely be a good feature that will easily clear the platform from hate follows who follow others to spread toxicity and trash talks.
4]Hide Tweets you have liked
This feature will be the same as Facebook's privacy settings for posts; it will permit users to adjust who gets to see what tweets they have liked. You can choose any category from three options like everybody, only your followers, and a certain group. There is no clearance from Twitter regarding the rollout of this feature.
According to leaked news, there is no such announcement regarding the Safety Mode to help users from several harassments on the Twitter platform. According to Twitter spokesperson Gizmodo, all the new features which will roll out will be based on research into user preferences.
If all these new or expected privacy changes of Twitter features of privacy changes will roll out, the user will undoubtedly get more control over their conversation and experience. Overall this feature may be good for many people, but they will disrupt all the toxic people from Twitter for sure.
Also Read: Google's New Nest Doorbell Cam Cant Record All the Time