Popular Chinese company Byte Dance, the owner of TikTok, has recently acquired and deals with the popular virtual reality start-up Pico on major development and diversification of its business holdings along with a drive towards metaverse.
Entry of By Dance in the field of Metaverse     
Though there is no such confirmation from Byte Dance which is headquartered in Beijing, regarding the deal size but according to the company to a report of CNBC that Byte Dance will help them to get entry into VR space also confirmed that they are going for a long-term, investment in this evolving field. According to the company spokesperson, Pico's advanced software and hardware technology and its expert team will help Byte Dance achieve success in the VR space.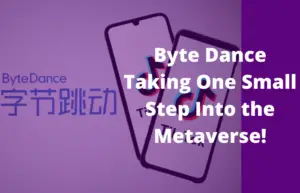 Pico, the largest VR manufacturer    
Pico is currently the third-largest virtual reality headset manufacturer globally in 2021's first quarter, growing rapidly in the VR space. Pico believes it can bring huge changes in gaming, education, entertainment, and other areas with the help of advanced VR technologies. Now this company is researching several applications of VR in several fields to innovate something new in the field of the Virtual world or metaverse.
The future of VR or Metaverse
No doubt, now VR technology is applying in several sectors. The mobile sector is one of the greatest examples of it where you can see. According to Facebook CEO Mark Zuckerberg, the future social media platform can be more advanced. The potential of VR or metaverse can change the way we communicate, work, and play.
No doubt it is a good decision for Byte Dance to acquire Pico! This could be a game-changing investment for Byte Dance that could bring potential showdown in the field of VR and challenge big companies like Apple recently brought the top-class virtual reality firm Net VR.
Deal of Byte Dance with Pico
Byte Dance opened up about this proposed deal with Pico after confirming the new augmented reality studio. In which creators may soon experiment with several new in-app features, visual effects, and powerful lenses.
According to the report of CNBC, in a press conference By Dance's spokesperson said that their company is very much excited to work and invest for the long term on metaverse or VR technology. The spokesperson also added that the company is highly optimistic regarding the future of VR and its different real-time use in this world. Their mission is to achieve huge success and invent advanced and sophisticated things in the field of VR. Hopefully, we can see new VR features and technology from By Dance in the future.
Also Read:  Upcoming privacy changes of Twitter