The biggest e-commerce portal Amazon is on hype again! According to a leak report, this e-commerce giant is now preparing to launch its own branded TVs, which may probably be known as Amazon TV, possibly at the end of this year around October. However, there is no confirmation regarding this hype from Amazon yet.
Expected features of Amazon TV
Several sources claim that the upcoming Amazon TV may come with inbuilt Alexa, and the size will be somewhere 55 to 75 inches. According to the leaked news, the TV will be designed by reputed TV manufacturer TCL. The insider report says Amazon is hiding this secret project of launching its brand new TVs, but it's working on this project for the past two years. Both Lab 126 and Amazon Devices teams are working hard to launch this project soon.
As we all know, Amazon Devices and Lab 126 are the research and development team of the Kindle and Fire TV stick research and development team, so we can expect the upcoming Amazon TV to be too good and come with loaded features. According to a hidden source, Amazon is also working on its own in-house design for a separate TV that will launch soon in the global market.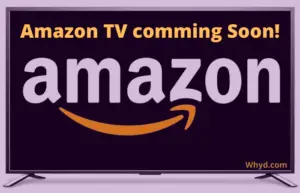 Speculations on Amazon's upcoming TVs
It's totally a mystery when it comes to details, specifications, and the expected price of these upcoming TV from Amazon. People are assuming different price ranges and expecting amazing features on these TVs.
Till now, it's unclear that whether the TVs will come with Fire TV software or not; no doubt this can be a good concept for Amazon to bring its TV with Fire TV software but let's see what's new Amazon is bringing for us!
Last year, Amazon updated the Fire TV's user interface and launched two basic TV under the Amazon Basics brand in India. As we all know, amazon loves to embed its services into people's homes. And the best example of it is the Alexa microwave Echo Frames, Eco speakers, and other experimental amazon gadgets, which truly got popular over time.
Amazon TV Maybe Affordable!
When it comes to price again, this brand is known for being reasonable. People are expecting the upcoming TVs of amazing will be somewhere $410 to $480. Currently, the branded Fire TVs sell at a very affordable price and come with amazing features during Prime day sales. So People are expecting the upcoming TVs with better features and at affordable prices.
No doubt this e-commerce giant is trying to dig into the budget TV market by providing the best features at a minimal cost. Currently, you will find many brands selling top-quality TV at good prices; hopefully, Amazon will get success with their new TV.
When will Amazon TV be launch? 
There is no confirmation regarding the rollout of Amazon TV, but an insider claims it could be very soon, probably in October this year. According to some sources, Amazon will launch this new TV on the upcoming Black Friday sale! It seems the prediction may be true because Amazon has a good record to rake in millions during holidays sales.
Also Read: TikTok's Owner Is Taking One Small Step Into the Metaverse