Since the launch of Call to Arms mode, players in Red Dead Online have been fighting themselves against enemies waves to collect some more cash. According to the Rockstar (Rockstar Newswire portal), they may be compensated for their huge efforts with extra rewards for completing a fresh new game mode match. This week, the Red Dead Online update brings bonuses and many more benefits for the players, along with a new Quick Draw Club Season Pass.
According to the report, Rockstar Newswire was first to share every important detail about the update and the battle pass. But here, we are going to share everything about the new updates. So follow the complete post to know more details about this new update.
Red Dead Online Survival of the richest mode 
During the launch of Call of Arms Mode in Red Dead Online, every player was getting handsome rewards closed to triple payouts; these rewards definitely helped players make good cash and gold rapidly.  But unfortunately, this week, players will not have the same bonus, but there is still a good reason to play this game which is nothing but the new survival mode.
The confirmation comes from different sources that this time, the player will get the opportunity to earn double the cash and XP by completing a match of Calls to Arms. Meanwhile, players should also focus on any free roam missions in Red Dead Online this week. This double payout bonus will stay up to 13th September, which means now players can earn huge money with their fishing and hunting skills.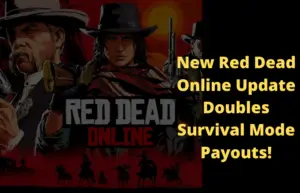 The new season pass starts  
When it comes to the new battle pass, "The Quick Draw Club," these passes are very shorter than any others out there. This season passes will last only for a month and will, and the best thing is this will pay back all the premium currency they spend if they can complete every rank. There are only 25, which makes the Quick Draw Club passes attractive for players who usually play consistently.
The Quick Draw Club Pass number 3 is now out, and the owner will get new knife variants and hairstyles. This pass will be running until 4th October, and it is the second to last in this series.
Players waiting for Red Dead Online can also collect some of the goodies from the last season pass; you can start collecting these goodies from today. Players can also buy Bandit Mask, Blue Enamel, and Zapatero outfit starting from today.
Special Discounts for full horse Kits  
Though players will not get any special discount on weapons this week, they have good opportunities to deck their top preferable horse out with some prime and essential equipment. All with all Breton Horses, you will also get a good discount on Saddles, Stirrups, and Spurs this week. Here we are giving you the full list of weekly discounts below. Just check!
Bounty Hunter License – 5 Gold Bars Off
Role Pamphlets – 30% off
Breton Horses – 40% off
Role Gun Belts – 40% off
Ammo – 40% off
Stirrups – 40% off
Spurs – 50% off
 Also Read:The new iPhone 13 won't be port-less