A couple of weeks before Apple Unveils the iPhone 13, people are very much excited about this upcoming iPhone, and day by day, people are showing their interest in this phone.
Recently some people are saying that the next iPhone will be port less and the reason behind this may be Apple wants users to buy more accessories. Though it may be true in the future, the iPhone 13 will never be a portless handset, and users will definitely get the lightning port there like before.
When it comes to port-less rumors, these are not new; people are spreading this kind of rumors since Apple introduced its proprietary MagSafe charger with some other useful accessories with the iPhone 12; people are expecting Apple to follow the same thing in the future. But for now, Apple is not going to give you a port-less iPhone 13.
According to a Bloomberg report, in 2021, Apple may introduce an iPhone without a Lightning port, which would be the first-ever port-less iPhone. This source also claims that Apple is testing internally on this port-less design.
But Apple Analyst, Ming-Chi Kuo has reported no such planning to launch port-less iPhone 13 and confirmed that users would get lightning port on all models of iPhone 13, which clearly means that iPhone 13 will not feature USB-C support.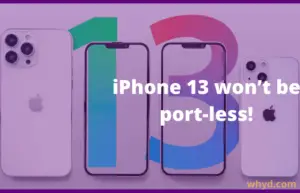 How did the iPhone 13 port-less rumor start?
When it comes to how the port-less rumor started, back in 2016, during the launch of the iPhone 7, Apple decided to comes with a port-less phone, and it removed the 3.5 mm headphone jack and launched the EarPods with a lightning connector. This gadget got super hit in the market within few days.
A few years later, Apple also decided not to provide an adaptor for old headphones. Finally, in 2020, during the iPhone 12, Apple decided to remove accessories like EarPods and power bricks from the box. Apple introducing MagSafe accessories, and it's clear that Lightning cable to your iPhone.
Here's Why a Port-less iPhone Makes Sense  
As we know, the Apple iPhone 8 has supported Qi charging, in which users have to lay the iPhone in a compatible charging mate to charge it. If we consider the MagSafe charger, users will definitely get more juice than a cable connection.
Once again, AirPods got super hit in the global market, and now every AirPods owner is not using a lightning port to connect a headphone. According to experts, Apple should create a good environment to bring this change soon and avoid bad PR.
Undoubtedly, Apple needs to explain this upcoming feature in detail and launch a port-less iPhone with water and dust resistance. Now you may ask, will a port-less iPhone can come with dust and water resistance? Will an iPhone have breakthrough technology? And several other possibilities like Apple bringing a solid piece of the metal frame and stainless steel finish? We have to wait for the right time to know everything in the future from Apple.
Will the iPhone 13 be portless?
For now, if we have to conclude, no, the iPhone 13 won't be portless, and the good news is you can still get the lightning cable for the charging purpose.
If you plan to purchase a new iPhone this year, we will suggest you try a Magsafe accessory. According to experts and several users, the MagSafe Duo Charger is a must-have accessory for the Apple watch or Air Pods users. So what are your views on the port-less iPhone? Would you prefer to buy this upcoming iPhone 13? Just tell us under the comment section.
Also Read: AirPods 3 could launch this month