If you are a big fan of Air Pods, then this news can make you happy. According to rumored news, AirPods 3 is to launch alongside the brand new iPhone 13 and Apple Watch Series 7 in September. Though the rumors are circulating since the beginning of the years, there is no such confirmation from the Apple officials till now.
But speculations and several leaks definitely show that the upcoming AirPods 3 will win the heart of all AirPods lovers. According to several leaks, news and speculations, we are here to let you know more about this gadget, so read till the end to know more details about this upcoming dynamic AirPods.
Design of AirPods 3
When it comes to AirPods, we all know these are the best in the market. According to several leaks, reports, and rumors, AirPods 3 will look almost the same as AirPods Pro, but it will come without ear tips. The report of Bloomberg claims that the wireless earbuds will feature a short stern.
This concept behind the new design is all about the universal fit, and it could definitely help users who usually complain about the AirPods falling off from their ears. According to experts, if the AirPods 3 will be universal, it will be great because it will automatically adjust anyone's ears.
The source of Power On newsletter recently claims that Mark German confirmed that the entry-level AirPods models would come with a design alike to the AirPods Pro, including a new in-ear shape and also added this is going to be a significant update in terms of Apple's AirPods since the debuted model of AirPods since 2016.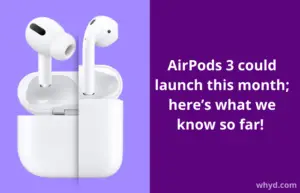 Expected Features of AirPods 3
Many of you must have been very much excited to know about the features of AirPod 3. Still, unfortunately, AirPod 3 may not have any special features like Active Noise cancellation and transparency Mode. Overall, people and tech experts are expecting different designs along with connectivity and performance improvements. Yes, no doubt Apple will definitely give users some new and advanced features.
Some leak news also comes that Apple may promote Dolby Atmos with Spatial Audio with this new generation AirPods to enjoy music differently. Definitely, the new Air Pod 3 is going to be better than older AirPods. Some experts are expecting improvements with the battery as well as microphones in this upcoming AirPod. The report says that Apple is testing its new conversation boost feature, and you may get this feature in this new AirPod 3.
Launch date and price of this new AirPods
According to leak news, AirPods 3 may be launched by Apple in the spring of 2021, but until now, Apple hasn't launched it. According to reliable Apple analyst Ming-Chi Kuo, the new Air Pod will launch in the last month of 2021. DigiTimes expecting this new AirPods is likely to launch in September along with iPhone 13.
When it comes to the price, people expect the price somewhere around $150 to $200. There is no confirmation regarding Apple will sell two different variants or not. Apple may bring two variants with a wireless charging case with a regular case or launch only a wireless charging case.
Wrap-up
No doubt, this time, Apple will definitely launch the AirPod 3 with a new design along with add-on features. Are you still exciting about the upcoming wireless earbuds? If yes, wait for its launch and let us know what features you are expecting from this AirPod.
Also Read: Germany wants 7 years of security updates on a smartphone