Samsung recently unveiled its new smartphone Galaxy Z Fold 3; no doubt this will be one of the top-rated smartphones in the market. Here we are going to emphasizing its durability! If you will ask how this smartphone will hold up over time? The answer will be complicated to predict, but according to the breakability tests, the hype of Samsung's durability claim is not just for the promotion or marking purpose.
Drop test of Galaxy Z Fold 3
According to the All-State Protection Plans, this handset is going to be extremely strong. As we know, All-State Protection is famous for drop testes and fold bot. All state claims that this smartphone can last up to 2,00,000 folds. The report says Z Fold 3 offered amazing results in two drop tests and water tests.
Samsung recently confirmed that they created the strongest frame for the Z Fold 3 handset, which is materials like dubs Aluminum Armors and Gorilla Glass Victus. This frame also has the IPX8 rating, and no doubt this is the first Samsung foldable to provide a water resistance feature. The main screen of this phone has an additional panel layer and a high-quality protective film. According to SAMSUNG, the screen of the Z Fold 3 will be 80% more durable than the Z Fold 2.
No doubt these are big claims from Samsung, which are unbelievable, but the results of Allstate's breakability are just outstanding and enough to believe everything. The breakability video is also available; you can check if you want t watch it. The DropBot dropped the Z Fold 3 from six feet where the phone was fully open in this test, but surprisingly, the screen did not scatter.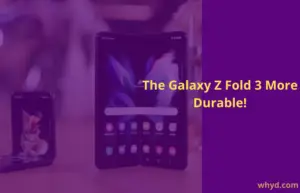 Galaxy Z Fold 3 is the most durable smartphone
No doubt Samsung has been making many durable, foldable phones since its first Galaxy Fold series in 2019, but The Galaxy Z Fold 3 is one of the strongest and most durable phones ever. According to the statement of Jason Siciliano, the vice president of Allstate Protection, in a drop test even did not find a single crack in its interior screen; this is excellent news that Samsung's latest foldable smartphone will be rough tough.
That doesn't mean you will carry this phone carelessly! The breakdown point can be anywhere, and it totally depends on the user. All the tests are done from a certain height, so you can't just expect the same result by drop Z Fold 3 from more heights.  There is still no confirmation, how the phone will perform in long-term use. In Z Fold 2, many people complained about the tiny air bubble after use for several months.
Invest in a good quality case for the better protection
When it comes to improved durability, that doesn't mean it's not destructible. The phone costs around $1800, but it can cost you $479 to repair the main screen and $149 to repair the outer screen. So if you want to avoid any kind of accident, we recommend investing in a good quality case.
Also Read:   AirPods 3 could launch this month