Till now Apple has not released the next-generation Apple Watch Series 7, but here is good news that the latest annual software upgrade for Apple Watches just been released.  The watch OS8 update is now available to install for the old Apple watch series 3 and later, conveys some of the cool new features that make your old Apple watch amazingly improved. Here we are going to let you know everything you can do in watchOS 8!
Things you can do now in WatchOS8
1. Be More Mindful  
Now you will get the Apple Mindfulness app with the new update of OS8 which offers a more universal approach to your psychological health. The breathing routines have been prolonged, and they have been combined by a brand new reflection feature to assist you to take time to think more purposefully during the day. Fitness Plus subscribers get guided mediations too.        
2. Show Off a Portrait Watch Face
Now you can easily set portrait photos on your old Apple watch by upgrading it to a new WatchOS8.  To set portrait photos on your Apple watch you have to access the Face Gallery tab in the Apple Watch app on your iPhone. Then choose the portrait photo you want to display on your watch.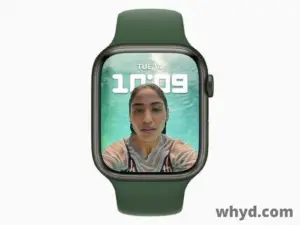 3. Text More Easily
This time users find messages get some significant enhancements, with the digital crown now performing as a way of shifting the text cursor for smoother editing, and the same text entry part used to input writings, GIFs and emojis. Overall with the updated OS now users will get the facility to compose more messages within a shorter space of time on the watch.
4. Set Multiple Timers
This is probably one of the most innovating things Apple introduced with its new WatchOS8 update. Now after updating your old Apple watch you can at last set multiple times to run beside each other. You can easily set them through the Timers app on your watch, or with help of Siri voice command and you can set each particular timer a tag to make them easier to recognise.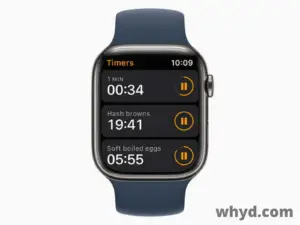 5. Find Your Other Apple Devices
Now after the update of the new OS8 on your old Apple watch, you will get two new apps to find other gadgets likes AirTags and other similar trackers and find devices that look for connecting to Apple hardware like Macs, iPods and iPhones. There is the preference to get alerts when your Apple watch is detached from the devices but to get the facility of this feature you have to enable it on your watch.
6. See More Detailed Weather Forecasts
Now you can see drastic changes in the weather Forecasts app after the update of WatchOS8. You will now get support for severe weather notifications, alerts for rainfall happening in the next hour, and many more updates on weather difficulties to play around with on your watch face. Like before you have to scroll down to see all of the data offered to you.    
7. Control your smart Home More Easily
Now the Home app for the Apple Watch has completely reformed and upgraded with the new update of WatchOS8. Now users can get more control over the different Home Kit devices that are easily connected across Apple's smart home platform, and now users can even look at the feeds from compatible smart video cams right on the watch without turning to your iPhone.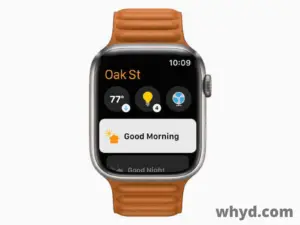 8. Unlock More Doors
Now the competencies of the Apple Watch wallet app are improved a lot with the new upgrade of WatchOS8. Now there is ultra-wideband support for digital car keys, the capability to unlock cars and start compatibility cars with this wearable, and home and hotels keys can also add digitally. Users can now add their driver's license or state ID to this Wallet app.   
9. Track Respiratory Rate
Now after WatchOS8 is installed on your old Apple watches you can able to track respiratory rate which is nothing but the number of breaths per minute while you sleep, along with several other data like heart rate. So it's time to check your sleep data on the Apple Watch or you also check via the Health app on your iPhone to see the amount that has been noted over time.
      
10. Track even More Workouts
After the upgradation of the Watch OS 8 now Apple watch can track workouts even efficiently. Now users can track two types of workouts like Tai Chi and Pilates. Users can easily find them in the Workout app! If you will scroll down Apple says both of these are supported by powerful custom-built heart rate and motion algorithms to offer users more accurate calorie stats during active tracking.
11. Keep Your Focus
Like Macs, iPads and iPhones now you can set custom Do Not Disturb rules for different scenarios like gym, office, the car with your Apple Watch after upgrading the watch OS 8. This feature is very much beneficial if you take the time to set them properly according to the situation and you can easily set them by open up Settings on your connected iPhone and choose Focus.
These are 11 new updates now you can enjoy on your old Apple watch by updating it to WatchOS8. What's your thoughts on this matter and does these things will enhance the user experience? Let us know your view under the comment section.
Also Read: Users Claim New iPad Mini 6 Are Suffering from 'Jelly Scrolling' or Wobbly Screens