No doubt the iPad Mini 6 is the most exciting new device Apple launched this month, but sadly, now it seems some new iPad Minis are facing screen wobbly issues during scrolling.
Though these issues are not with everyone but a handful of iPad Mini 6 owners are facing this issue, recently Verge's Dieter Bohn posted a slow-motion video of this big issue on Twitter and questioned Apple!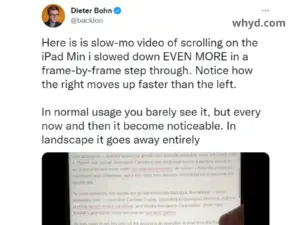 Wobbly Screen issue on iPad Mini 6
While the iPad Mini6's jelly screen may be elusive enough for several people to oversee the issue, the source of this problem looks to be that when scrolling, altered areas of the screen scroll at dissimilar speeds, which can cause images and most unusually text to appear as if its wobbling or bouncing.
One reader who spoke to 9to5 Mac said that when they tried to get their new iPad Mini 6 replaced at the Apple store, they found that all the demo iPad Mini units also suffered the same wobbly screen issue, which evidently proposes that this issue could be existing across a huge number of new iPad Minis.
Now, it's not clear the main reason behind the problem caused the new iPad Mini 6 screen woggle, but whatever may be the reason, no doubt this is a big disappointment seeing the iPad Mini 6 new 8.3-inch display is one of the biggest upgrades for 2021 among all tablets. It will definitely hamper the reputation of Apple and leave a big question mark to the manufacturing team.
Though this is not the very first time we have seen such issues on a device with an unpremeditated wobble screen, the One Plus 5 from 2017 also suffered the same issue which later learned was caused by a display that was installed upside down.  Here in the case of Apple, the reason may not be the upside-down display but who knows any company can do a mistake!
We reached out to Apple to know more details about this screen wobbly issue of the new iPad and we will update soon the complete story when we hear back any valid reason.
On the other side, according to a report from the new iPhone 13 owners, it looks that exchanging the screen even when using Apple official replacement parts can cause the phone's Face ID system to stop working. According to a valid source swapping out an iPhone 13's original display urged a warning notification which says "Unable to verify this iPhone has an original display" which is quite surprising and makes Face ID disable!
This progress is definitely a sad turn of events for official third-party repair services, especially with Apple deliberately working to multiply its independent iPhone Repair Program. Though there is a possibility that Apple could announce a software update that could resolve these issues, its also possible that Apple could be a result of Apple's security etiquettes, with Apple wanting third-party repair services to replace both screen and the iPhone 13's Face ID sensors at the same time to assist maintenance safety across the phone's display components during the repair.
Irrespective, of these two major issues heavily impacting both the new iPad Mini and the modern iPhone, Hopefully, Apple will follow up on all these issues along with additional information and solutions soon.
Also Read: Apple Watch 7 release date, price, features, specs and news