A few days before, on 14th September Apple has launched its most awaited Apple Watch 7 at the big Apple event along with iPhone 13 series, conveying the first-ever redesign to Apple's smartwatch line. But the bad news is still the wearable is not coming until later this year, we lastly know what's coming and it looks like several enhancements on this upcoming watch of Apple.
No doubt Apple Watch 7 has a sophisticated look that holds rounded edges but with thinner bezels, for twenty percent more screen area than the Apple Watch 6 and the New Apple watch comes with sizes of 41mm and 45 mm. Technically, you can say Apple is coming with its new Apple Watch 7 with proper redesigning after watch 2 but it's not that much redesigned as people were demanding.
According to several rumors, the expectation was a radical redesign to a flat-edged look like the iPhone 13 but we are still in the round-edge zone. Many people were expected that the new Apple Watch will come with many new health tracking features but unfortunately, we have to wait for the next year's Apple Watch 8 for the rumored blood pressure and glucometer sensor. Apple already declared that the new Apple Watch will come with a new chipset and it looks this is not a drastic upgrade on the one in the Apple watch 6.
When it comes to Apple's new 7 series watch it does get a 70% brighter display which is auto-adjusted even in dark and extreme light conditions. This watch will be IP6X dust resistance, the same WR50 water resistance as prior models, and more durable. When it comes to the battery backup, Apple claims this watch will provide 18 hours' backup and you can recharge this watch 33% faster which is definitely a good point to notice.
The new Apple 7 series watch is the next main smartwatch, the successor of the Apple Watch 6 from last year. People are still waiting for the Apple Watch SE2, so in the interim, the Apple Watch SE remains as a reasonable smartwatch in the lineup- but till now the Apple Watch 3 is currently the cheapest wearable option available for purchase!
Apple already revealed that the upcoming smartwatch runs the new watchOS8 and coming to Apple watch 3 and newer wearables but the 7 series Apple watch will definitely make the most benefit of it.
Eventually, the Apple 7 series watch has remarkable enhancements rather than revolutionary changes, but it will be one of the best smartwatches you can buy from Apple till now.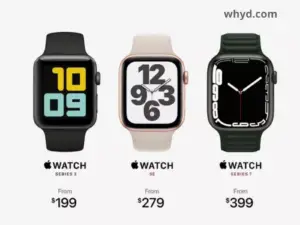 Apple Watch 7 release date and price
The new Apple Watch 7 was released on 14th September with several other Apple products. It starts at $399, though we don't have any other official prices yet and there are not many updates on which date it will available for sale but some are saying the 3rd quarter of 2021.
The Apple 7 watch comes with a large size display and comes with GPS and 4G LTE versions, however, we don't have exact pricing aside from $399 for the 41mm GPS-only model.
When it comes to colors, the Apple Watch 7 will come with midnight(black), starlight(gray), blue, green, and red.
Design and display
While rumors suggested the Apple Watch 7 would have a flat-edged design but Apple stuck with the round-edged look. Though, with thinner 1.7mm bezels than the Apple Watch 6, the new smartwatch has 20% more screen area.
If you see closely the larger screen size also comes with slight size increases in this year's Apple Watches- up to 41 and 45mm. No doubt overall you will get much more improvements on the display of the Apple Watch 7 and definitely be 70 % brighter. As you will get a larger screen, the full QWERTY keyboard is easily accessible on its screen. This 7 series watch is IP6X dust resistance and WR50 waterproof up to 50 meters deep.
Software: watchOS8
The new Apple 7 Series will release with watchOS 8, Which should be rolling out other Apple Smartwatches in the next week. According to Apple a new Mindfulness app, the Tai Chi & Pilates to the workout app, the capability to track respiratory rate while you sleep, and a redesigned Photos app will come feature with Apple 7 watch.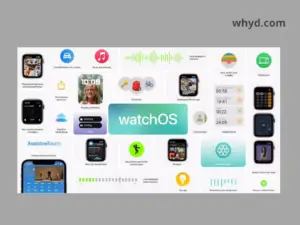 Health and Fitness
You will get the same sensor suite on Apple 7 like Apple 6 watch but there are no glucometers and pressure sensors were predicted by people by assuming rumors!
Still, you will get several impressive health monitoring features like blood oxygen level, ECG track, heart rate, and meditation session, and many other metrics.
Specifications and battery of Apple Watch 7
Till now Apple didn't have an announcement regarding the Apple 7 Specs, which clearly says it will available with the same chipset like Apple S6 and 1GB of RAM with 32 GB storage that debuted in the Apple Watch 6.
According to several recent leaks, we have seen that new S7 chipset and another leak also points in that direction. The leak source also points that the watch will come with 32 GB storage.
Apple recently confirmed that the new Apple 7 Series watch has the same 18 hours battery life as its predecessor suggesting it likely has the same 304 mAh battery as in the Apple Watch 6.
But the real change you may see is that in this new Apple watch you will get more advanced chargers which will provide 33% faster-charging facilities and Apple claims the watch will charge from zero to eighty percent within 45 minutes. Further, Apple confirmed that an 8 minutes' charge can give you up to 8 hours of sleep tracking.  According to rumors the watch also comes with a new 1-meter-long USB-C type magnetic fast charging cable in the watch box. Let's see what's new Apple is bringing with its new 7 series wearable.
Also Read: New Apple TV Plus reported subscriber numbers aren't even close to Netflix and Disney Plus