Howdy Pokémon GO trainers? Hope you guys are doing well in-game. Here is good news for you guys! The Pokémon World Championships is on the way that will be held in 2022! Here you will get the best chance to show up your skills and strive to be the best among players.
In 2022, all the Pokémon Go players will be able to participate in live, in-person Pokémon GO competitions, comprising Regional Championships and international Championships. Top-rated Pokémon Go trainers will get an invitation to the Pokémon World Championships where they will get the chance to win prize money, and many other exciting rewards.
Who can play or participate in the Pokémon GO Championship Series?
Pokémon Go events will be open for all the players in the senior and Master age divisions. The player's age should be above the age of digital consent so that they can participate in Pokémon GO Championship Series events.
Format
When it comes to the format of the 2022 Pokémon GO Championship Series will be the Great League.
Registration  
The trainer will be capable to register themselves for the Pokémon GO Championship Series events via a two-phase registration window.
Early Registration   
If you are a player having Legend Rank in GO battle League season, then you will be able to register for certain events before anyone else during a short initial registration window.
Open Registration
After the early registration window ends, the rest players can register via the open registration window and these players can be of any rank.
When to Register?
The earliest events online registration will open in January 2022. The official Tournament organizers will handle the whole registration process. Payers may have to pay an entry fee and events may sell outs.    
How to Register?
If you want to register for Pokémon GO Championship series events, then first you have to link your Pokémon GO account to a Trainer Club account and have a Play! Pokémon Player ID. Usually, this account link is distinct from the account linking system used to log in to your Pokémon GO main account.
You will capable to link accounts for Pokémon GO Championship Series registration towards the end of 2021. You will also get the details of the tournament through the event locator at that time.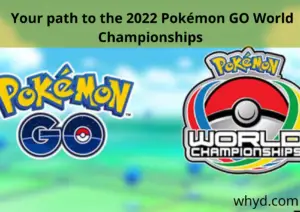 Pokémon GO championship series events   
Pokémon GO will be highlighted at select events, comprising Regional and International Championships. Top class Pokémon GO trainers at these events will get a direct invitation to the 2022 Pokémon World Championship, and some will even receive a travel award to the World Championships. World Championships invitations will be circulated at each qualifier as follows for each age division.        
Regional Championships
1st Place: World Championships invite and travel reward
2nd Place: World Championships invite
International Championship  
1st Place: World Championships invite and travel award
2nd Place: World Championships invite and travel award
3rd and 4th Place: World Championships invite  
The winner will also get the prize money at each event.
You can visit the official site Pokemon.com to find up-to-date and more details about the qualifiers, event locations and many more things.
Please remember your environment and follow the guidelines from local health authorities when playing Pokémon GO. Upcoming events are imperilled to modification. Be sure to follow the Pokémon GO official social media sites.
Also Read: Shinx Community Day Pokémon GO November 2021