WhatsApp the most popular free messenger platform is now all set to become more flexible in its last-seen features. This will permit WhatsApp users to show elements like their last seen to all contacts rather than some of the definite contacts permitting more satisfactory controls. Now, the widespread instant messaging application permits you to hide elements like your last seen and about information section from everyone, or it only displays to your contacts.
As per the recent report of WABetainfo, this feature will be executed in the next beta version of WhatsApp on V2.21.23.14 for all android users, before the launch of the steady version of the app. Those who are on the beta version can also get a visibility page by easily accessing to privacy settings and choosing the innovative and freshly added My contacts Except option.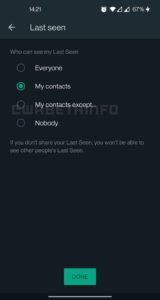 This exact option is also accessible for your Whatsapp profile picture, Last seen and about info. It looks like the option is not obtainable for status updates till now.
Execution of Last Seen Status feature on WhatsApp
Once the feature is executed properly, the chosen contacts will not be able to see your WhatsApp Status, Last Seen, and About Us information as per your WhatsApp settings. Though, users must remember that deactivating the last seen feature for any particular contact will not permit you to see their last seen info.
This is one of the latest pipeline features designed at enticing more users to this amazing platform and recollecting existing users within the increasing fame of contending apps like Signal and Telegram. WhatsApp is also testing its upcoming Community feature that will permit group admins to form subgroups within groups. Some other features like image addition, editing and sticker suggestions are also on the way for the WhatsApp web version. What's your thought on this upcoming Last Seen feature of WhatsApp. Let us know in the comment section.
Also Read:Is Gmail down? Email service not working as users fail to log in