If you are someone who struggles to find the best necklace to flaunt at their parties then you have arrived at the right time and place. We are aware that the solution can be difficult. Additionally, we are aware that looking put together and making a style statement depends greatly on doing it right. That's why we have listed tips that will help you choose the necklace and four necklace types to adorn on any occasion. So before you go to shop for gold chains and bring in pieces that don't suit you at all, take a look at our guide and flaunt your neckline and the statement pieces.
Tips To Choose Your Necklaces Length And Type
Length
There are many different lengths of necklaces and pendant chains available, but not every length will look the same on every wearer. There are a lot of important elements like those when you choose Tanzanite earrings studs, including height, body type, and even face form can affect how a necklace looks. Let's examine each of the elements that influence the selection of the ideal necklace length.
Your Height
Finding the perfect necklace shape is usually the most difficult for people who are shorter or taller. Long necklaces are frequently designed too long for shorter women, like me, while shorter women often feel that a necklace that is supposed to be longer sits too short on the torso.
Body Shape
Body type and neck diameter are two factors that can be disregarded while choosing necklace lengths. For us women, the fit of a necklace against our bodies might be influenced by factors like our dress size or breast size. For those of us with larger busts, it is usually best to choose shorter necklaces and stay away from one's longer than 24″. Longer, stacked necklaces can look beautiful on you if your bust is smaller. The same holds for the size of your neck; if you have a wide, powerful neck, stay away from chokers because they will make your neckline appear shorter (and they will likely feel very uncomfortable).
Face Shape
Your face shape might influence which necklace styles fit you more than others, just like your wrist size matters before you go to a bracelet shop.
Oval or round faces: Look for necklaces that lengthen the face, preferably those that are 20 to 24 inches long. This will naturally frame the face and create a v-shape that draws the eye downward.
Oblong or square faces: A choker or shorter necklace style will assist reduce the harsher facial angles, emphasizing a longer neck.
Heart-shaped: If your face is more heart-shaped than square or rectangular, try shorter necklaces from 16 to 18 inches to help soften the angles.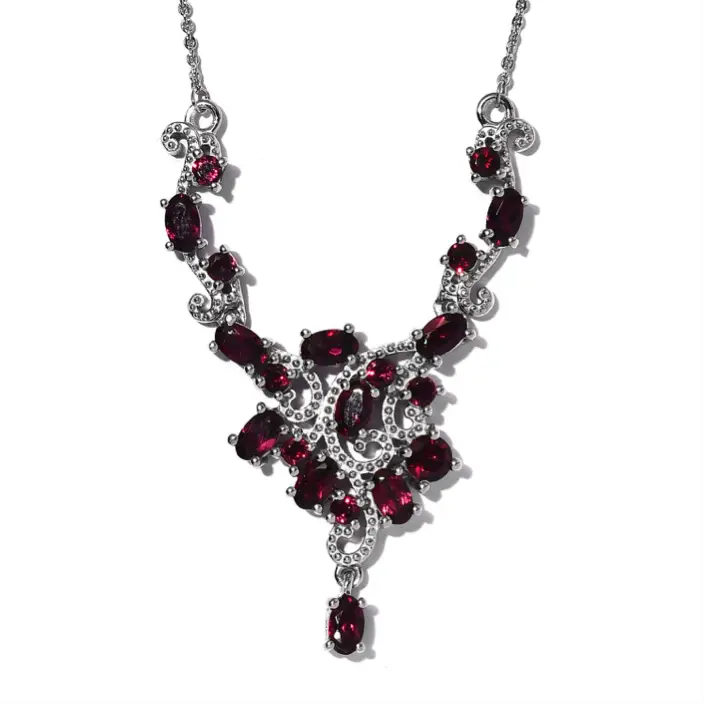 4 Styles Of Necklaces To Choose From
Layer
The skill of stacking necklaces is without a doubt one of the most innovative fashion trends to emerge in recent years. The most enjoyable feature of this trend is mixing and combining necklaces of different lengths and then tailoring your look to suit your preferences. Chokers and longer pieces of jewelry alike can look revolutionary when worn properly. For simple layering of gemstone jewelry, ensure that you add a string of diamonds to enhance the color of the jewel, such as for rubies, garnets, or tanzanite pendants.
Rope Necklaces
Rope necklaces, as the name implies, are unusual kinds in which you get to wrap the pendant's length twice around your neck to create the appearance of a double-stranded necklace. Additionally, one advantage of using rope necklaces is the ability to create a necklace in the style of a lariat by folding one end and threading the other end through the folded end. This style meets the criteria for diversity!
Matinee
This length of the necklace is described as a piece that would be placed strategically between the bust and the area around the collarbone. Long necklines can benefit greatly from this necklace length. Regarding outfit choices, both formal and casual attire are the finest choices for a matinee necklace. This type of necklace elegantly matches higher necklines.
Chokers
It's important to embrace and master Pendant's latest fashion trend in equal proportion. The choker is one of this market's most popular trends. The jewelry sticks close to your neck and the design unfolds like this. Off-shoulder or spaghetti-sleeved outfits complement this length of jewelry the best in a fashion sense. Suave and essential glamor gives your whole appearance the ideal amount of edginess.
End Note
Finding varied pendant designs, such as letter pendants or little animal or nature-inspired designs, may seem like a difficult effort, but it can be just as difficult to become fixated on the ideal chain length that will look magnificent when you wear them. As a result, this article will introduce you to the most popular necklace lengths and styles. Now that you are aware of the many lengths and distinctive styles to choose from, you can improve your jewelry collection with some statement-making necklaces the next time you feel the urge.