The recent launch of the iPhone 13 surprised the whole world especially in terms of camera and battery development, now the next is Samsung Galaxy S22, what it will offer to its users? People are too much excited! But sadly according to a surprise leak, the screen size and battery capacity are both smaller than what we currently have with the standard GalaxyS21 model.
According to the tipster Ice Universe, the base of the Galaxy S 22 model is going to come with an attractive 6.06-inch display on the other hand the S21 model has a 6.2-inch screen with a 1080×2400 pixel resolution, 20.9 aspect ratio, and 120 Hz refresh rate.
That's definitely slightly surprising, seeing that Apple's own attempts to decrease screen sizes-with the 5.4-inch iPhone 12 mini have allegedly not generated the kind of sales as expected that Apple would have been expecting from its smallest flagship smartphone.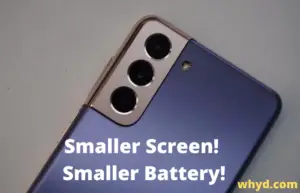 Battery Capacity of Samsung Galaxy S22
When it comes to the Galaxy S22, Ice University predicted that the battery of Samsung Galaxy S22 is going to be 3,700mAh, which is considerably less than the 4000 mAh battery capacity than its predecessor the Galaxy S21 offers.
Further, this tipster says that the Samsung Galaxy S22 is going to be Samsung's smallest flagship smartphone in new years. According to him, you will get the Galaxy S22 phone design overall with a length, thickness, and width that are smaller than the standard iPhone 13 offers.
No doubt there are several rumors around regarding the battery capacities of the upcoming Samsung Galaxy S22 smartphone of Samsung but it was only yesterday, that a new source of leak claimed that the same battery capacity of 3,700mAh, now it seems the whole information is undeniably truthful.
Size is Not Everything Here!   
If everything will be according to the leak and sources, then no doubt we can believe that this phone will be a compact one which will probably launch in January.
The screen size of a little 6 inches is not fairly into iPhone 12 mini terrain, as we already mentioned before. When it comes to a 6-inch smartphone the Google Pixel 5 only comes with such a display, and it's a well-capable smartphone as well. No doubt we should remember that the Samsung Galaxy S22 Plus and Ultra models smartphone will provide larger screen sizes.
Usually, we people are always excited to know about rumors and leaks around what phone companies are planning for their upcoming smartphone projects, but overall the raw specs never matter to a large extent. For people, quality and user experience matter a lot.
Same in the case of battery capacity, if the smartphone Galaxy S22 is shirking its overall size then battery life could be still performing well. No doubt we will be going to review everything in detail after the launch of this phone and once available for sale. What's your thought about this upcoming Galaxy S22 phone? Let us know under the comment section.
Also Read: Apple's Home app and Home Kit devices are getting these 8 new features next week