People were expected to launch the Samsung Galaxy Note 21; many also predicted that this Note 21 would be the top-rated phone of 2021, but Samsung surprisingly canceled it and launched the Samsung Galaxy S21 instead of the Note series phone. People were expected a high-end foldable phone, but that's was not launched.
So now this is a big question: will Samsung launch its Samsung Galaxy Note 22 in the upcoming days? Though there is no such official confirmation from Samsung and no such decisive answer to that yet, no doubt there are many rumors regarding this Note 22 Samsung phone. Today, we will give you details rumors along with the expected release date of this phone.
We will also discuss the expected features and specifications you may get in Samsung Galaxy Note 22 in the future. We will also give you further details if we get any updates via this post so keep checking for updates.
Release date of Samsung Galaxy Note 22
As we already told you, people were waiting a long for this Samsung Galaxy Note 22. If it launches, then no doubt it's big news for all Samsung smartphone lovers. According to rumors, this high-end smartphone may launch in August 2022. Some people also predicting this phone may launch in the first half of the month and go on sale in the second half as Samsung usually does in every new launch. However, there is no such confirmation regarding the launch of this smartphone because Samsung already did it before in Galaxy Note 21.
Recently leaked news suggests that there won't be a Galaxy Note series any more! Further, this news mentioned that Samsung might work on Galaxy S, Galaxy Z, Galaxy M, and Galaxy A series, and the source claimed that there would not be any Galaxy Note series phones from Samsung.
Probably there won't be any Galaxy note series, but still, people are expecting. However, this source claims that Samsung is now focusing on the Galaxy Z Fold range as the Note Z, so it's probably possible an upcoming Samsung smartphone having Note Branding.
Overall, not renewing a trademark doesn't mean Samsung will not launch any smartphone with that trademark in the future.  The company also previously confirmed that the Galaxy Note Range will continue in 2022. Overall, it's a big conflict report above, but as Samsung directly gave this statement, it has more value than any other rumors.
So will there be any possibility of Samsung Galaxy Note 22? No one can confirm that, but as we know, with Samsung adding S pen support to Galaxy S and Galaxy Fold ranges, the Note must have lost its attraction and selling points, which indicates that there might not be any more of this series. Still, if Samsung somehow plans to launch this phone, it will not take long years.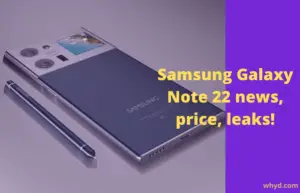 The Expected Price of Galaxy Note 22   
Now the big question is, what will be this smartphone cost if it launches in the future? Though there are no such leaks on its price range, we predict the price range will be the same as the Samsung Galaxy Note 20.
That means you may get it at $1000, and the 5 G version may be somewhere between $999. That's the same as standard Samsung Galaxy Note 20; if you go for Samsung Galaxy Note Ultra, the cost may rise upwards of $1,299.
If there is a Samsung Galaxy Note 22, you may or may not see a Samsung Galaxy Note 22 Ultra, but for any models that do launch, the prices must be in the high range.
Everything about News and Leaks
So far, there is no such authentic news regarding the launch and other specifications of the Samsung Galaxy Note 22 as we got several leaks and rumors. It's very confusing for us to tell you whether this phone ever launches.
We have very confident about something if the Samsung Galaxy Note 22 will launch shortly. We can surely tell you guys that this smartphone will have an S Pen stylus, unlike the Samsung Galaxy Z Fold 3 and Samsung Galaxy S21, which also support the S Pen Stylus. We are sure about the inbuilt slot for the stylus in Samsung Galaxy Note 22.
When it comes to power, we can confidently say that the Samsung Galaxy Note 22 will be a top-end power and the best available Snapdragon chipset in some regions like the US and probably the best Exynos one in others (including the UK).
What about the Camera?
There is a big possibility that this smartphone will have an under-display camera; like now, Samsung has equipped the Galaxy Z Fold 3 with one, but there is no surety of that. This future Samsung Galaxy Note 22 have a lot in common, so once the phone launches, we will be able to say more about this phone in detail.
What's your thought about this Samsung Galaxy Note 22? If you have any expectations or points of view, then feels free to share with us under the comment section.
Also, Read: iPhone 14 Pro Could Finally Ditch the Notch