Apple believes in introducinging advanced features on its newly launched iPhone. It's been a long time since Apple has not changed its design of the iPhone yet.
This report came from Jon Prosser, who already shared some unofficial renders of iPhone 14 Pro Max that Apple might finally remove the divisive notch with the iPhone 14 Pro and Pro max models.
Apple will replace a punch-hole camera, which we have already seen most of the android smartphone manufacturers have used for years now. According to John, the iPhone 14 Pro Max will feature Face ID and one small lens, but John Prosser expects the other components to be hidden under the display.
According to him, this is not just the lack of notch that's different here; you may see the camera bump also mostly disappears, with the lenses are fixed almost flush with the rear. All these changes have superficially been achieved merely by making the iPhone 14 Pro Max thicker. Though Jon Prosser doesn't mention the exact thickness of this upcoming phone, he guessed it's far thicker than the 7.4mm thick iPhone 12 Pro Max.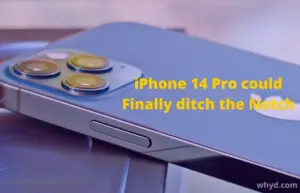 More expected specification of iPhone 14 Pro
The iPhone 14 Pro will come with a triple-lens camera and a LiDAR scanner, the same as the iPhone 12 Pro Max; you might see a glossy glass back with an Apple logo under the glass.  When it comes to the volume buttons, it will be round like iPhone 4, and the chassis will be stainless steel.
Many leaks say that the iPhone 14 Pro might come with port less feature, but thankfully you will get a Lightning port on the bottom side of this phone. There is nothing clear when it comes to color, but according to Jon Prosser, one might be a rose gold one, but not 100% sure.
There is no valid information regarding the lack of a notch, with the standard iPhone 14 like Jon Prosser speculating. It's just his own view; there is no such concrete information regarding it. We'd further doubtful that they probably come with titanium which is usually a pricey material.
No doubt Prosser is more often right, but he has also been wrong in most predictions before. Though these are just iPhone 14 rumors, they could be changed later, even if this is accurate. when it comes to the price the iPhone 14 Pro may have cost somewhere around $900 to $1099.
Opinion on iPhone 14 Pro
Now the question is, what iPhone 14 Pro actually need? No doubt Apple hasn't renovated the iPhone for long, and now it needs a change in its design as most people getting bored with the same design again and again. No doubt it is also debatable looks a bit old-fashioned thanks to the large notch.
According to a rumor, Apple is trying to shrink the notch for the iPhone 13 range, but that is comparably a small step when most rival handset manufactures have a full-screen design.
So it may be a good step if Apple removes the bottom side notch and gives a complete screen iPhone 14 Pro to the users. In this way, Apple can bring more challenges to its competitors in the market.
Except for these, the other changes here also seem very positive, as everyone will not want a thicker phone. Still, there is a decent chance that could also allow for a larger battery, which users have wanted for years. So its feel that Jon Prosser might be right about this prediction. The release of the iPhone 14 Pro might be somewhere around October 2022 let's see what changes Apple will bring in this upcoming handset.
Also Read: Cybercriminal Gang Just Leaked 500,000 Fortinet VPN Users