If you are looking for One Plus wireless earbuds, then it's maybe difficult for you to choose the best one now! In the market, you will find several options from One Plus like One Plus Buds, One Plus Buds Pro and One Plus Buds Z, and according to leaks, the latest one will be upgraded soon.
According to some of the unofficial renders forwarded by 91mobiles, veteran tipster Steve McFly deceptively "based on real-life images" have found their way on the internet, signifying that the upcoming One Plus Buds Z's design will be almost the same as the previous Earbuds of One plus.
The new and original One Plus Buds Z earbuds broke cover in October 2020, so One Plus may bring an update to bring a fresh product, and the sources of these images are well recognized and dependable enough for us to think they are probably precise.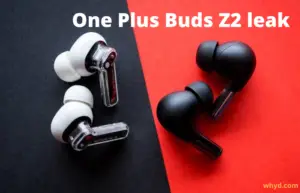 One Plus Buds Z2 is the budget king.
If you compare all the prices of One plus earbuds, then One Plus Buds Z is the most reasonable; when it comes to the feature, the One Plus Buds Z comes with active noise cancellation at $49.9. Experts are expecting the price of One Plus Buds Z2 will be somewhere the same.
According to several leak images/photos, we can easily mark a slight change in terms of the earbuds' aesthetics as a little bit angled ear tips. Even the charging case looks almost the same as the one that came with the original One Plus Buds Z.
The expected launch date of One Plus Buds Z2  
We have found the white color One Plus Buds Z2, but there is the possibility of many more colors from the company. Though there is no such official confirmation regarding the launch of One Plus Buds Z2 and which E-commerce portal it will be available, experts are expecting this Earbuds to launch with the One Plus 9RT.
Though Apple did not design wireless earbuds, there is no doubt that the launch of Apple Air Pods in 2016 augmented the growth of these audio accessories. Now, most companies are following this trend and launching a pair of wireless earbuds with their smartphones.
That's the reason we have the One Plus Buds Pro, Google Pixel Buds A-series and Samsung Galaxy Buds 3, and many others.  These Air Pods are useful for listening to music but helps a lot to interact with people while you are on the move.
Wireless Buds are the Trend Setters! 
No doubt, wireless earbuds are now trendy among people. Overall you can say this is now a mini-industry as a whole! You can easily take the example of the launch of Nothing Ear. This is a pair of earbuds from a firm headed by Carl Pei, one of the main founders of One Plus.
According to the latest One Plus, Bud's Z2 leak reminds us that every price point is now enclosed by the overflow of wireless earbuds arriving on the market at a great pace. Whether you are looking for a high-quality earbud along with advanced audio technology or searching for budget-friendly and basic Buds, there are several options well available out there in the market now.
Also, Read New Samsung Galaxy Note 22 news, price, leaks.