No doubt, we all have to admit that iPhone XS (64 GB) is pretty good on storage. In fact, this phone never fills up. Yet, Apple thinks users need more and more space-for real, let us know what you will do with more spaces in your iPhone? Do you really need more space? If the rumor becomes true about the 1TB storage in the upcoming iPhone 13 Pros, many more questions may arise.
What does Rumor say about iPhone 13 Pros?  
According to rumors, the upcoming iPhone 13 Pros phones, which will reportedly consist of iPhone 13 Pro and iPhone 13 Pro Max, will feature a 1 TB of storage and become the largest capacity ever when it comes to any smartphone and even Apple ever offered. Though the speculation is not new, this time it comes from dependable and most reliable Apple analyst Ming-Chi Kuo, who gave a statement and claimed the storage capacity in the phones in a new research note obtained by MacRumors, two days before the company's annual iPhone event.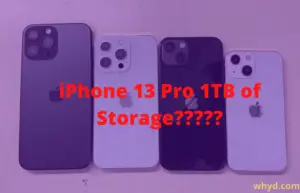 iPhone 13 pros come with 1 TB storage!   
This is not the only news coming on the storage front, though; according to Kuo's statement that won't be any 64 GB storage iPhone 13 model, with all devices starting at 128 GB. Apple's iPhone 12 mini and iPhone 12 are currently offering a 64 GB version, while the iPhone 12 Pro and iPhone 12 Max start at 128 GB.
If you are an iPhone user who needs massive storage and running out of space in your old iPhone, this could be a piece of great news for you to upgrade your phone. Many people still don't believe the rumor information about so much space in a phone; though this is a piece of unbelievable news, nothing is impossible for a brand like Apple.
In addition, although we have been worrying over the possible delays with the Apple 7 series watch, Kuo further wants that component scarcities could exaggerate the iPhone 13 Pros. Check it out here what he said:
"We believe that iPhone's current production challenge is the component shortage. Due to the component shortage, the legacy models had been cut by about 5–10% in 3Q21. The iPhone 13 shipment in 4Q21 may have a potential downside risk due to component shortage. However, this downside has a limited impact on iPhone 13 shipments. We believe that iPhone 13 shipments in 2021 can grow by more than 10% YoY (vs. iPhone 12 shipments in 2020)."
Meanwhile, Kuo expects the Apple watch 7 series to be launched at the upcoming event on 14th September 2021 but believes mass production of devices will be pushed in late or after September.