Are you one of them who wait long for the release of Android 12? If yes, then this is a piece of good news for you! Android 12 might be coming with on October 4th. According to rumors, the new version of Google's operating system will launch in the first week of October (expected date 4th Oct). To be more specific, the Android 12 might be rolling out on October 4 on Pixel phones, with an ensuing rollout for other devices also.
What does the Leak Tweet say about the launch of Android 12?
According to a new tweet, a hit has been dropped, claiming that Google is planning to release the Android Open Source Project (AOSP)version of Android 12 on October 4. Since the AOSP frequently makes its way to the community along with the steady release of an Android version, it is being guessed that Android 12 will also see it's rolling out on the same date.
No doubt if the Android releases on the same day, it will first come with Pixels Phones. But for users who expect the Android 12 update on other smartphones, the waiting period might be much longer than you expected. A handful of Android OEMs quickly adopt the new Android version on their devices when it drops. Many, though, take considerably longer, often releasing it on their smartphones months after the official rollout.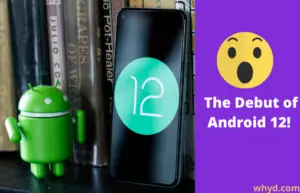 The uncertain timeline offered by XSA editor on Android Twelve
Irrespective, the tweet by XDA editor-in-chief Mishaal Rahman offers us an uncertain timeline of when the Android 12 can be expected. So the simple mention of a date is adequate to captivate millions of Android users expecting the fresh Android experience on their smartphones.
According to leaks, 4th October also falls in line with the forecast rollout date for Google's next Pixel lineup. Google is probably expected to release its all-new Pixel 6 series in October. Surely, the smartphones will mark their debut with the new Android version. The android twelve launch date hence has to be earlier than that of the Pixel 6 phones.
When can you expect the launch of Android 12?
Still, it has been informed that people can start booking the Pixel 6 and Pixel 6 Pro from 19th October. The devices will then be accessible in stores and in the hands of those who pre-book them by 28th October. So even there is a chance that Google may launch the new Android version after the official launch of the Pixel 6 series, it will have to roll out it out before devices are distributed, which means within October.
Also, Read: New iPhone 13 Pros Will Have 1TB of Storage!