Are you a mobile gamer? Are you worried about sweaty thumbs? If yes, then it's a piece of good news for you! Now Razer is manufacturing gaming finger sleeves for you.  Though many of you think, how can a sweaty thumb affect our game? Yes! It affects a lot, especially when you are going to play a shooting game.  It is usually very hard to aim with sweaty thumbs, especially when playing games like Fortnight or Call of duty: Mobile version.
Gaming finger sleeves for better grip at just $10
These sleeves are specially made for sweaty thumbs, which definitely help gamers to build a better grip on the thumb during long-time gaming. Some gamers are calling these sleeves Thumb Condoms because of their design. Razer says this mobile gaming thumb sleeves will cost you $10 with a grey and neon green highlights color combination.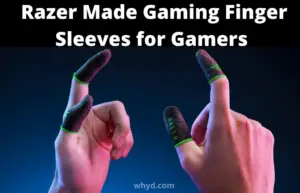 Build quality and design of Razer's gaming finger sleeves
When it comes to the build quality, these are durable as made of spandex, nylon, silver fiber fabric and woven with top quality sensitivity silver fiber for improved aim and superb control. At the same time, the breathable sleeves keep gamers' fingers deadly cool even in the heated moment of battle.  Razer claims these sleeves will definitely help mobile gamers who feel awkward to sweaty thumbs.
When it comes to Razer's sleeves, it's not available near doctors or for professional medical uses. Razer's sleeves feature top-quality conductive silver fiber to guarantee that your smartphone can still identify your thumbs while also helping reduce friction and delivering maximum accuracy and better control. It's always crucial to note that Razer also claims its gaming finger sleeves are compatible with most smartphone gaming devices but  It might not work on some phones with old gaming devices like Nintendo 3DS, which relies on a resistive touchscreen instead of a more current capacitive touch display.
More details about Razer's Gaming Finger sleeves
The gaming thumb sleeves of Razer measures only 0.8mm think but according to some people, a slight learning curve for anyone who is used to gaming au naturel. But Razer claims these thumb sleeves are of one size and fit all and well.
The point of Razor's gaming sleeves manufactures especially to assist in wick moisture away from your thumbs and fingers while also letting those around you know that you are not a casual gamer. These sleeves which are made of silver fiber, might not have assistance when playing games with a keyboard or controller; you can also use these sleeves while playing PC and console games.
Affordable and better grip, just go for Razer's gaming finger sleeves!
When it comes to price, as we already mentioned, these are only 10$ for each pack, so you may need extra pars if you are a regular or professional mobile gamer to protect your thumbs from the dangers of sweatiness while playing.  If you are a gamer facing sweaty palms and thumb issues, it's a relief sign for you and saves your finger from dimness during griping your mobile phone when playing your favorite game.  So it's time to try these thumb sleeves and understand how effective these sleeves are actually during long-time gaming.
Also Read: New God of War Ragnarok – Why Thor Looks So Different Than in the MCU?