Do you know why people choose Apple or Google's wireless earbuds? Yes, most of them prefer to choose their earbuds because those gadgets are supported by their own listening voice assistants to control your complete music expedience without touch anything. Other brands usually offer normal connectivity and you have to tap a button to control everything whether it to activate Siri or google assistance, which is definitely less suitable, and now the new Skullcandy is also introducing its own voice commands which is great news if you are planning to purchase a brand new Skullcandy earbud.
Cheap and new Skullcandy Earbuds
How many of you feel that reaching to your ear to tap a small button on your wireless earbuds is an inconvenience? Though it's not necessarily for everyone, there are few users who struggle to get wireless earbuds to stay put, even a small button tap can dislodge a bud, which may require re-adjustment for super-fit again.
No doubt that a task is sometimes complicated when someone carrying groceries or doing any other important work. No doubt the this feels like a small feature but it's essential and highly useful to have a voice command feature and that's the reason people opt for Apple or Google's wireless headphones.
For those who are on a tight budget and looking for earbuds having their own voice assistance then Skullcandy Earbuds are now the best option for you as you will get its own voice assistance along with a budget price range that is less than $100.
This beautiful piece of earbuds is available for sale from today and The Skullcandy's $100 Grind Fuel and the $80 Push Active both feature the company's new Skull-iQ voice control functionality.  It's similar to the Apple AirPods or the Google Pixel Buds, the two fresh additions to Skullcandy's lineup are always listening for voice commands, instead of tiny buttons to press first. Overall you can say users can easily control functions like music playback, ambient sound modes, launching Spotify, and volume adjustments with the help of voice assistance. The only thing you have to do is that instead of saying Hey Siri OR Hey Google you have to say Hey Skullcandy!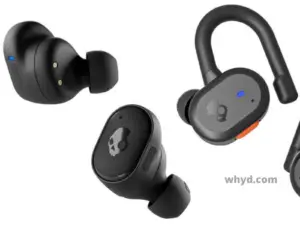 Some of the important features of Skullcandy Earbuds
These two earbuds also provide the facility to customize the shortcuts triggered by button taps on the side, even using one as a remote shutter trigger for a linked smartphone's camera.
The most interesting feature you will get on these Skullcandy Earbuds is that you will get the share audio feature which always Skull IQ equipped earbuds to the same audio stream which makes the job easy to share a song for two people from a single device within 15 feet range.
If you are not a good caretaker of earbuds, then no need to worry Skullcandy features Title tracking functionality which makes it easier to find out individual buds.  When we talk about the 100$ and 80$ Skullcandy Earbuds no doubt the Grind Fuel buds feature a smaller design with almost nine hours' battery life on the earbuds alone and users will get additional 31 hours when paired with their charging case along with tweak and adjust sound profiles via mobile app.
Difference between Skullcandy's Push Active and Grind Fuel buds
On the other hand, the $80 Push Active's design Skullcandy Earbuds is a little larger than Grind Fuel and it offers 10 hours on buds alone and extra 34 hours with a charging case. That's balancing with adjustable over-the-ear support to secure fit and provide better comfort to some users. Now Skullcandy is encouraging extra functionality which will be added to the Skull-IQ feature via future software updates, but there are no such plans to make it as vigorous as Google or Siri assistant. So you can also ask random questions to your Skullcandy voice assistant to trigger the smart voice assistant. So what's your thought on these new Skullcandy Earbuds? let us know your thoughts on these two models of earbuds.
Also Read:11 Things You Can Do in New WatchOS8 That You Couldn't Do Before