Entering a password every time you need to access an account can be very annoying over time, especially when you have been working on the same system for the last two or more years; most of the time, it seems like a waste of time! But here! It's a piece of good news from Microsoft.
Microsoft towards a password accessible pathway
Now Microsoft is planning to bring a password-free world, which is no doubt a good decision. Now the company is letting users access their Microsoft account without typing a password. You will undoubtedly need a Microsoft Authenticator app or a Windows hello fingerprint or face to log in, but that's ok! Users can also use external security keys through SMS or use the two-factor authentication through SMS or email.
Microsoft started shifting towards password-free authentication earlier this year. Now it allows all commercial users to sign in to accounts without any passwords. Soon it's coming for all users!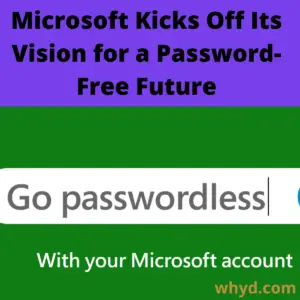 Update from Microsoft's security head about the password-less concept
VasuJakkal, the head of Microsoft's security and compliance and identity, told media channel Verge that they have been rolling this no password authentication at Microsoft. Now nearly 100 percent of Microsoft is passwordless.
The fact is no one likes to digging by typing in their letters and numbers passphrase each time they want to access their account. And while there are lots of password management choices are well available, including Microsoft's Edge browser, it forces you to depend on a third-party service anytime you want it.
The concept of the password is becoming gradually obsolete as more apps and services become dependent on multifactor security. Technically, Microsoft is also relying on that by managing the job of credentials over to features like Windows Hello, which needs a biometric response.
The complete process you have to follow
Now you can remove the password for logging into your Microsoft account; you will need to download and install the Microsoft authenticator app on iOS or Android and configure your account in the application. Then again, go to the Microsoft account dashboard on any browser and try to log in. Now you will get the notification to check your mobile device to approve authentication. In some cases, it may have asked the user to scan fingerprints before login.
Once you are already on the main page of your Microsoft account, then it's time to navigate the security tab. Just scroll down and select Advanced security, then scroll down on the next page to the Additional security section and choose a Passwordless account. Now choose the option to turn it on, and the authenticator app on your mobile will take care of the rest of things.
After configuring everything, you don't need to put a password again and again to access your Microsoft account. From now you will get a direct notification to approve the login on your smartphone. If you want to turn this option off, you can again head back to the same security settings panel and enable the old password option back.
Also Read: How To Access Steam Screenshot Folder