On Thursday, the European Union revealed policies to enforce a universal charger rule on technology manufacturers that would mandate the use of USB-C connections and the iPhone manufacturer gave the statement that they are unhappy with this idea.
According to them- "we are well aware of the strict regulation mandating just one type of connector suppresses innovations rather than inspiring it," an Apple spokesperson told us," which in turn will hurt consumers in Europe and around the world."
The proposal of the EU which is not yet the final decision- says smartphone manufacturers will be given 24 months to change to the universal connector type, and Thierry Breton, the EU's internal market commissioner, noted that it would not openly ban substitutes such as Apple's Lightning port.
He further said that- "If Apple wants to continue to have their own plug, they can do it. Also said that this rule is not at all against the innovation, its just to make the lives of our citizens a bit easier," he gave this statement at a press briefing in Brussels, according to the Associated Press, adding that device manufacturers still have the chance to put two different ports on their smartphones if they want.
Many people were expected the Lightning connection in the upcoming iPhone 14 which may probably launch in 2022, but an iPhone 15 which may arrive in 2023-would either double up on ports or adopt a different connector.
According to this upcoming rule or you can say the proposal, digital cameras, handheld video game consoles, headphones, headsets, phones, and tablets sold in the European Union world have to feature USB-C ports.
The lightning port was hyped when it was introduced on the iPhone 5 back in 2012, substituting the long-standing 30-pin connector, which lead to a social uproar as a wide range of docks and other accessories that trusted on the big connector type quickly became mismatched with the new iPhones.
On the other hand, some iPhone owners were unhappy with the switch of connector type, which shows that the existing products losing functionality, consumers have moved on in the nine long years since, and Lightning is now a familiar name.
But those invalid 30-pin accessories are an instance of why the EU is desperate to push this proposal through, as it looks to reduce waste when it comes to several charging cables.
The EU executive vice president Margrethe Vestager said in a statement that- "European consumers have been unsatisfied long enough regarding the mismatched chargers pilling up in their drawers, he further said- "We gave Industry sufficient time to come up with their own solutions, now time is ready for judicial action for a common charger".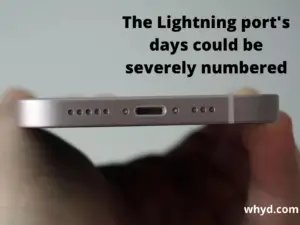 Apple remains concerned about the new which may ban Lightning port
An Apple spokesperson told to a news channel that the firm is not happy with the EU's proposal though it appreciates the objectives behind the plan.
The spokesperson further said-
Apple stands for modernization and intensely cares about the customer experience. Some of the most advanced thinking at Apple goes towards building products which reused and renewable materials".
"We share the European Commission's commitment to caring the environment and are already carbon neutral for all of our corporate emissions worldwide, and by 2030 every single Apple device and its usage will be carbon neutral.
"We produce products that augment people's lives, making everyday tasks simpler and more well-organized, comprising how you charge and transfer data on your device. We remain apprehensive that strict rule mandating just one type of connector suppresses innovation rather than inspiring it, which in turn will definitely hurt consumers in Europe and around the world.
"We look forward to sustained engagement with investors to assist find a solution that safeguards consumer interest, as well as the industry's capability to revolutionize and bring sensational new technology to users".
Apple will remain to work with the European Commission and collect more details about what actually this means, while there are concerns the ruling may harm the company's ecosystem and the 24-month alteration period is not sufficient.
Analysis: Still a long way to go!
This is not a surprise at all, because this news doesn't come instantly! This news or proposal already leaked last month and many people are aware of it. As we have already mentioned these plans are not final yet, and there is plenty of time for them to change considerably.
Apple is hastily becoming the outlier when it comes to handled device ports, with one of the other big holdouts. Recently Amazon is also changing its kindle e-reader range to a USB-C with its latest generation just a few days ago, after continuing with the micro-USB far longer than other major companies.
Whatever, even Apple has started to embrace USB-C over few years with both its MacBook and iPad ranges now introducing the port.
These smart moves have provoked rumors and gossip that it's only a matter of time before the iPhone follows suit-which looks like a valid step-but Apple has held by the Lightning connector for its recent installment, the iPhone 13 series, which arrived earlier this month.
Apple may provide two hardware versions of future iPhones, one with a USB-C port for the European market to get past any legislation, while still providing a Lightning-clad variant to the rest of the world, including its home market of the United States.
No doubt by splitting its hardware portfolio may increase the production costs for Apple. Something it's unlikely to want to do, so this perhaps won't be the purpose it opts for.
Some are expecting Apple could go with a portless design, conveying instead on its MagSafe technology-introduced with the iPhone 12 series in 2020 and wireless charging support to handle all the requirements in the future.
Till now there is no confirmation regarding this proposal, according to experts there is still a long way to go and you may hear about this proposal with several twists in the upcoming days.
Also, Read New Surface Duo 2: Microsoft gets serious about its dual-screen phone's cameras