Good News for android users! Now Google Photos' Locked Folder feature will be available on all android phones. The Google Photo Locked folder feature always lets you hide sensitive pictures and videos from your main library and secure them with a secrete password or biometrically protected folder.
Now, this feature will be available on all android 6 and above versions of phones. This feature was exclusively launched for new Pixel phones in June. Till now Google has not given any exact date for the launch of this feature widely but this feature is truly appreciable.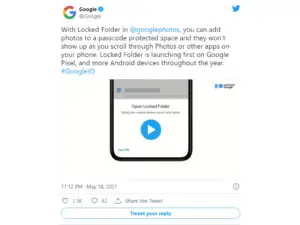 Google announced the Google Photos Locked Folder feature
Recently when Google announced the feature on stage at Google I/O in May, Google provided the benefits of the feature being used by parents hiding photos of a newly purchased puppy from their children. But I think it's sensible to say that most of the people are going to have very different pictures stored in their Locked Folder. I don't know about you, but in all the times I have had to pull my phone out of someone's hand to stop them scrolling through personal photos, and it's never been only because of a puppy picture!
Users can set up a Locked Folder by accessing the Library>Utilities> locked Folder in the Google Photo app. Then, obtainable photos can be moved to the folder manually. The Pixel camera app is also able to save fresh shorts straight into the folder when taken, but it's still unclear whether this feature will also available for available for other android camera apps or not. One thing is to mark here that you can't take back up to the cloud of any images which are already saved in the Locked Folder.
Also Read: iPhone 14 could be last with a Lightning port