Google is going to release its new Pixel 6 smartphone and it's especially focused on the camera. Pixel handsets have always been popular for their cameras and this time the Pixel 6 will also carry this camera feature as the main selling point.
According to the XDA developers, the unreleased version of Google's Camera app and extra added camera details from an unnamed source, the upcoming Pixel 6's camera upgrades will comprise manual white balance adjustment and a useful magic eraser, which will expectantly bring the object removal tool people have been waiting for from Google since it announced it at I/O 2017.
Camera Specifications of Pixel 6 and Pro version
With a while of reverse engineering, it seems like XDA Developers figured out the camera specs for both the Pixel 6 and Pixel 6 Pro. You may find the camera at the backside and it will be a 50-megapixel camera for the primary lens and a 12 MP ultra-wide-angle camera. The Pixel 6 Pro will also come with a 48.MP telephoto lens. In front, the Pro version will have a 12 MP selfie camera and the Pixel will have an 8MP lens front camera.   The camera app code points to the Pro's wide-angle selfie functionality, though there are no details were listed.
Both the Pixel 6 and Pixel 6 Pro will seemingly support 4K video recording at 60 FPS on their high-quality camera lenses, with up to 7x. XDA exposed that recording at a lower frame ratio could allow zoom levels up to 20x.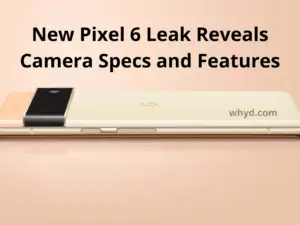 More about the camera features of the Pixel 6 series
The Pixel 6's Camera app will also provide fresh editing facilities for the user, like an automatic white balance feature that may adjust to the subject's skin tone, likely constructing one more comprehensive computational photography algorithm the company defined at Google I/O earlier this year. The camera's reported "face deblur" feature will capture multiple photos to assist fill in the data when faces get blurred.
Everything about the magic eraser tool  
Now, let's talk about the magic eraser tool, XSA evidence of a feature codenamed swiss, which appears to trust on Google's custom-built, in-house Tensor chip to eliminate objects or people from a photo. There is no such info on this beyond a code name, but it sure made me stroke my invisible beard. Could this be the next-level development of the fence-removal feature?
There is another host of other hinted at features in the leaked Google camera app code. Google might be restoring the way the selfie light pops up when you capture a photo, and autofocus and exposure lock might get rebranded to scene lock. There is the sign of a motion blur capability you could add after capturing a photo, and what appears to be a baby mode, which appears to work by modifying the camera to automatically shoot when it sees a child crawl into the frame.
We are fascinated by what XDA developers reviled in the leaded code, though there is a possibility of all these features will not come with the Pixel 6 or Pixel 6 Pro. We are now very close to the launch of Pixel 6 and definitely review it once again completely after its launch. So what's your thought on these upcoming Google Pixel phones. Lets us know under the comment section!
Also Read: The New Google Photos Locked Folder feature coming to all Android phones soon