Dwayne Johnson has been openly urged to rejoin the cast for Fast & Furious 10 by Vin Diesel. Fast & Furious 10 will be directed by longstanding franchise filmmaker Justin Lin and will establish the scenario for the eleventh and last film in the franchise, which will be released on April 7, 2023. Many of the big series stars are expected to be back, but Dwayne Johnson, who portrayed Agent Hobbs in Fast Five and its three sequels, will be noticeably absent.
But now, Vin Diesel took over to his Instagram to pen down a note to Dwayne Johnson and urge him to join in again in Fast & Furious 10.
Vin Diesel's Note to Dwayne Johnson
Vin Diesel expressed himself on Instagram. Diesel wrote a lengthy message to his younger brother Johnson, sharing a snapshot of their roles Dominic Toretto and Luke Hobbs from the saga. He claimed that the world is waiting for the conclusion of Fast & Furious 10. He exclaimed that in his house, the children refer to Johnson as Uncle Dwayne. He further claimed that their legacy is on the horizon. 
Diesel expressed his desire for Dwayne to return to the team, saying, years ago, he promised that he would keep his word to Pablo. He claimed that he promised that they'd attain and manifest the finest Fast in the finale, which is number ten! He requested Dwayne not to abandon the franchise; and added that he has a critical role to perform. No one else is capable of playing Hobbs other than him.
How did the Fight begin between Diesel and Dwayne?
For the clueless, rumours of Diesel and Dwayne's feud initially appeared in 2016, when the two argued for the final occasion on the set of 'The Fate of the Furious.' They've been trading jabs in the media since Dwayne Johnson referred to Diesel in an Instagram post in 2016 and criticized his professionalism. Later, Johnson told an entertainment portal that openly voicing his thoughts was not the acceptable thing to do.
Earlier Developments in the Fast & Furious 10 Cast
Johnson stated in July 2021 that he would not be repeating his role in Fast & Furious 10 or 11. Johnson wished the cast and crew of the next films the best of luck but said the sequels would be completed without him. While artists like Tyrese Gibson have stated that their dispute with Johnson is resolved, Diesel's statements earlier this summer suggested that there might have been some lingering resentment between the two stars. The conflict is a "sensitive issue," according to Ludacris, who also appears in the Fast & Furious franchise.
What is Johnson's reply to Diesel?
Johnson has yet to answer to Diesel's plea, but Fast & Furious director Justin Lin has hinted that Johnson's Hobbs and Jason Statham's Deckard Shaw could reappear in the last instalments.
Lin told portal earlier this year that all the characters are still in this universe, and they're still a member of this family. He is looking forward to revisiting this story now that they're approaching the end… Any character, in any circumstance, is perfectly acceptable in the story.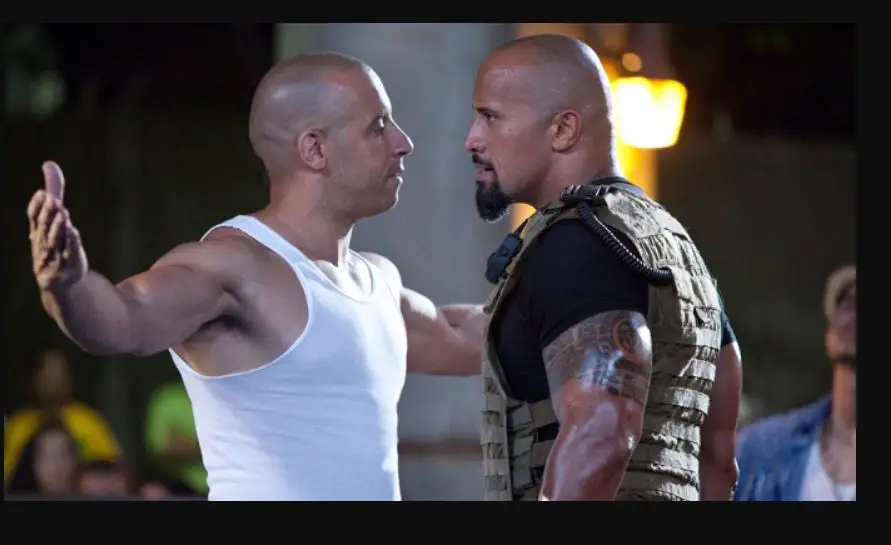 Fast & Furious 10 Release Date
Fast & Furious 10 will be released in the year 2023 on April 7 now.
Will Johnson join Fast & Furious 10?
With a 2023 release date, the movie would have to start shooting in 2022, and Johnson already has a lot on his plate, including one with a sequel to Jungle Cruise and a possible sequel to his upcoming DCEU film Black Adam. 
If Johnson does decide to come back for Fast & Furious 10, he may have a tiny portion than fans might think, something along the lines of a glimpse or a one-scene walk-on for the film's conclusion. For many Fast & Furious fans, seeing the two stars overcome the feud and see Luke Hobbs and Dominic Torreto as a family once more will be a pleasant reunion.
Well, the time will tell if Johnson joins in the Fast & Furious 10 bandwagon or not! One thing is for sure fans would love to see him reprising his famous role in the much-anticipated flick for sure!