Widgets are small renditions of programs that provide quick access to information such as the temperature and rainfall updates from the Weather app, forthcoming activities from Calendar, and even a collection of your favorite pictures from Photos. 
New and Best iOS 15 widgets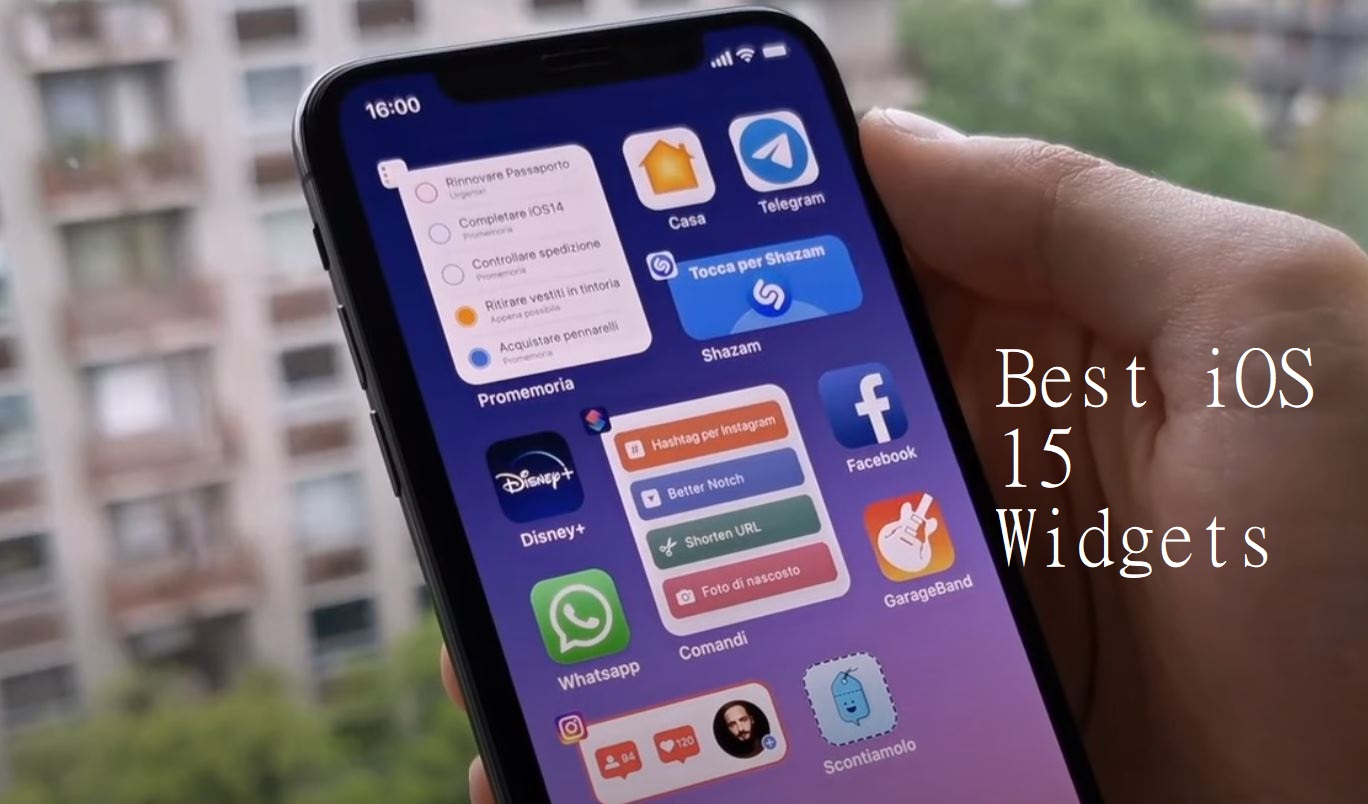 iOS 15 adds additional widgets for Mail, Find My, Contacts, Sleep, App Store, and Game Center, in addition to the built-in app widgets that were first introduced in the iPhone software update last year.
Let's look more closely at what every widget has to provide.
Mail
Since iOS 14, Gmail has been a widget, and Apple Mail is now going the same way. So far, the only choice on my widget panel is a list of emails from senders who have been marked as VIPs. Fresh messages from your VIP contacts will be displayed in the new Apple Mail widget. There are two sizes available, like with the last widget. Two new messages are displayed in the little widget, while four new messages are displayed in the large widget.
Apple's new Mail widget offers easy accessibility to one of your mails. Furthermore, you can access them from other inboxes. You can choose to have perhaps one of your email accounts displayed in the widget if you have numerous email accounts from dealing with other clients.
Apple sets this to display received messages from VIPs by default, but you may theoretically change it to whatever mailbox you have. That covers your own Sent Items, at least in theory. That could be beneficial if you just want to check if a message has been received and isn't, say, spam.
2. Find My
Find My is a widget for the Find My feature that allows you to locate people and stuff beginning with iOS 15. The widget comes in four different sizes: two for individuals and two for items, each with a small and large edition. If you've purchased an Apple Air Tag to monitor keys and other items, the latter widget should come in handy. The Find My widget is available in both square and rectangle formats.
You can reveal your geolocation with others, and they can reveal theirs with you. The widget only shows a Start Sharing Location button unless you set it up, but after that, you may tap on a person's name to discover where they are.
3. Sleep
The Apple Watch gained the ability to track the user's sleep with watchOS 7. With iOS 15, you can also add a widget to your main screen that displays statistics from the previous nights. It allows you to examine your sleep pattern which proves to be beneficial for those who wish to keep a track of their health.
4. Contacts
The contacts widget is fantastic.  On the face, it appears to be simple: the widget displays a contact name, which you can hit to retrieve their information in the Contacts app. You can display one to six contacts depending on the size of the widget.
However, if you have a lot of interactions with that particular contact, the second page that shows when you hit their title in the widget is stunning. You'll find simple shortcuts to make a phone call, send a text, start a FaceTime call, send an email, and even make Apple Pay payments. 
Additionally, if you communicate with that person frequently, you'll get a handy summary of your conversations, including recent messages and emails, as well as photos and links you've shared. It would also be mentioned if that contact has any upcoming appointments. It's quite convenient to have all of that information at your fingertips.
5. App Store
Apple's Today at the App Store has its very own widgets, which can be displayed as a square, rectangle, or block that fills part of the screen. Similar to the advice on the App Store's home screen, you can find tutorials, app compilations, discounts, in-app happenings, and other material here. It's a convenient way to be informed about in-app activities, and Apple also utilizes it to promote handpicked app compilations.
6. Game Center
Apple's game management program now features two widgets: one that shows you what games you've actually played, and another which shows you what games your Game Center friends have been playing.
How to find Widgets in Ios 15?
We have discussed the new widgets on iOS 15. Now, let us discuss how to reach them. You have a few options for finding widgets. The simplest technique is to edit whatsoever home screen you're on at the time.
Select Edit Home Screen from the drop-down menu that displays after long-pressing on an app or widget.

All the apps and widgets on your main screen will begin to jiggle, but tap the Plus (+) button at the top left side of the screen to stop them. 
You'll be transported to a screen with accessible widgets, including widgets for both Apple's built-in iPhone apps and third-party apps you've downloaded.
3. Swiping right to access the Today screen, which holds active widgets you haven't put on your home screen, will also lead you to the widget menu. 
Slide to the bottom of the page and select the edit option. You'll see the same jiggly screen as in step 2 above, and you may hit the Plus (+) icon to see what else is accessible.
Starting with iOS 14, you could add the widgets to your home screen, and an Intelligent Stack feature let you bundle numerous widgets that you could swipe through or have the iOS switch in between for you.
Popular iOS 14 Widgets available on iOS 15
Launcher 
Launcher is among the most flexible and effective iPhone widgets available. The widget app allows you to instantly open your favorite apps and is completely customizable.
You can also customize it to make calls, send texts, send emails, and even start FaceTime video conversations. Not only that but it may also be used to access your favorite websites instantly.
2. Batteries
Batteries are among the greatest iPhone widgets, making it simple to keep track of not just the iPhone's battery life as well as the battery backup of linked Bluetooth devices such as Air Pods.
3. Fitness
This is for health aficionados or people who place health and fitness at the top of the agenda. If you're one of them, download this iOS widget to keep records of your activities.
You can anticipate it to perform properly on your iOS device, indicating your progress, because it's built-in. As a result, you won't need to open the health app to see how well you're doing in the gym or how much more effort you need to put in to reach your objective.
4. Widgetsmith
Widgetsmith is among the most popular iPhone home screen widgets, with a large range of widgets. You may fine-tune the widgets to your liking because they are entirely customizable.
For example, you may proactively arrange your custom widgets to display weather in the morning, calendar, and the super useful activity ring progress (needs Apple Watch) in the evenings.
5. Google News
Include one of the top news apps for iPhone to the Today View so that you can keep up with all of the latest big news with ease.
6. Reminders and Calendar
The calendar widget allows you to easily view future events. With the exception of iOS's built-in calendar software, most other solid third calendar apps have widgets.
7. Shortcuts
You're likely aware that you can start apps on your iPhone by pressing the back button. You may also use the Shortcuts app for accessibility.  If you do, there's a decent possibility you'd like to use the Shortcuts widget.
8. WhatsApp
Because many use WhatsApp as our primary messaging program to communicate with friends and family, it would be appropriate to include its widget in your top priority.  It allows you to quickly access your favorite contacts easily.
9. Sticky Notes
The sticky notes widget helps in keeping track of crucial notes a breeze. Sticky Widgets is for you if you appreciate the idea to keep track of notes at a glimpse.
10. Google Assistant 
Due to the limitations imposed on iOS, Google Assistant does not perform as well as it does on Android. However, Google's virtual assistant is more than good enough to compete with Siri, and there are a plethora of helpful Google Assistant tasks. The virtual assistant could do a lot more of it than you expect, from checking weather updates to keeping up with the latest news.
11. Screen Time
Have you ever desired you could keep track of data about Screen Time a little quicker, or perhaps without having to go into the Settings app on your iPhone? If you answered yes, the Screen Time widget is right for you.
12. Spotify
Spotify, the Swedish music streaming powerhouse (which has over 365 million active users), is still one of the greatest music streaming apps available. As a result, Spotify's recently released iOS home screen widget is worth mentioning.
Other Useful and Cool iOS 15 Widgets
A countdown widget adds to the excitement of anticipation by providing a graphic notification on your home screen that something fantastic is about to unfold. You may easily construct your own countdown Widgets. It's available in two sizes (small and medium).
You can take a few minutes to unwind at various periods during your busy routine. This meditation software will lead you through simple breathing exercises, inspiring stories, and more. The widget is designed to remind you of pleasurable stress-relieving activities that you can do during the day. As time passes, the app assists you in seeing yourself as a calmer individual.
It is an app that aids in the development of your vocab. Whether you're aiming to improve and expand your vocabulary for academic or personal reasons, the challenge is to make a passion for learning new terms on a regular basis. With the help of iOS 15 home screen widgets, it's now possible to learn new terms directly from the home screen. It exhibits new words each day. 
It is a must-have widget for every sports fan who adores constant monitoring of the performances of his or her favorite sports teams. You can get conventional game alerts as well as player alerts, all of which are easily customizable. You could use it to create scores for many leagues and sports. All major sports, including the NBA, NFL, tennis, and others, have score updates, headlines, and notifications available.  
Based upon the information you wish to exhibit, you can pick from three widget sizes: tiny, medium, or large. You can switch between leagues and sports whenever you want.
Many individuals have been using this software to handle their documents on their iPhones and iPads for a long. This app was updated for iOS 15 and now includes a number of useful widgets. It provides for complete customization, allowing you to show various data and conduct various activities. 
You can instantly access your favourite activities, such as music, video, and browsing the web. Even recently opened files and folders can be found. The widget is available in three sizes (small, medium, and large).
It's a cool-looking widget app with a lot of potentials. Top Widgets offers a plethora of widgets, app icons, and wallpapers that allow users to completely customize their home screens. Top Widgets allows you to select from a big number of widgets made by skilled developers and place them on your home screen in just a few seconds. 
You can make your own Widgetsmith using a variety of options like changing the frame colour, typefaces, widget style, and more.
It is difficult to live a balanced life. And one of the most important methods to maintain track of your health is to be able to keep track of your water intake. To avoid dehydration, you can add a widget to your home screen that informs and monitors your water intake throughout the day.
WaterMinder is a third-party widget that lets you track all of your beverages and figure out how hydrated you are.
TripIt will assist you in organizing your trip arrangements and ensuring that you arrive on time. This travel planning app's own widget allows you to view all of the pertinent details about your trip.
In the small space, you could see your flight number, departure/arrival time, and terminal number. You can choose the critical details to be shown based on your trip mode. Once you arrive at your location, you can adjust the widget to indicate what's next on your schedule, such as hotel check-ins, business meetings, and so on.
If you haven't used Wikipedia since elementary school, you have most likely never used the web. The iOS application has the same feel and looks like the site, but with added functions like night mode, easy access, and so on.
It's perhaps one of the greatest iOS widgets, as it supplies you with info in bits on a routine basis directly on your main screen. 
MD Clock is a brilliantly made clock software with adorable and simple clock widgets. MD Clock is the right software for you if you prefer to customize your home screen and want to add a large screen clock. It is available in three different sizes (Small, Medium, and Large).
If trading is your pastime or side business, you understand how critical it is to be aware of changing market values at all times.
You forget to check on your investments for a moment, and before you know it, your money has vanished. This is why an iPhone Home Screen widget that keeps track of the stock market is essential.
Hopefully, now you can decide on which iOS 15 widgets are best for you!