If you are an Apple watch lover, then this is good news for you! According to rumors, the upcoming Apple Watch will launch with a fresh design for the first time in years; according to the report, the upcoming Apple Watch Series 7 will come with a refreshing new design having a flatter display with edges and a faster processor. Rumors also indicate a slightly big screen on this upcoming Apple Watch 7 series.
If it happens, it will be a refreshing change for the Apple new edition watch as Apple had never upgraded its display since the Apple Watch Series 4, which was an edge-to-edge display. Though the old screen is also good in quality, people usually complain about the screen's size! 
According to the source, the 7 series of Apple watches will have a faster processor, but there will be no change on health-focused upgrades. The latest major upgrade Apple brought in its watches by adding the blood-oxygen sensor, and Apple users can expect the body-temperature sensor in the upcoming Apple 8 series watches.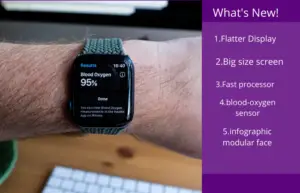 Leaks on display and new watch faces of Apple Watch 7 Series
According to leaks, the display of the Apple Watch Series 7 is getting 1 mm bigger, which means it will increase from 40x44mm to 41x45mm. This change might attract many people to purchase this watch for sure. Apart from size, Apple will bring several new watch faces along with a modern infographic modular face. In the history of Apple watch manufacturing, this is the second time Apple will increase its display size.   The expected price of the Apple Watch 7 price may be around $399 and it can go up to $429. This year we may see the price drop of Apple Watch. 
Undoubtedly, the new generation iPads and iPhones have leaned away from round bezels, but the 7 series Apple Watch will go with the same trend and design with edges and flatter displays. A few days before, one leak also claims that the new Apple watches may soon be available with diverse colors, and you may get a mint green color Apple watch in the future like the AirPods Max.
When it comes to Apple Watch 7 Release date, speculation says it may be in the mid-September 2021. So you can expect an official announcement from Apple soon in the middle of September.
Also read: Xiaomi 12 specifications and leaks
Rumor on Apple upcoming event for September 2021
Like before, every apple user speculating the new Apple watch will be launched in September. The 7 Series Apple Watch will be announced in the upcoming Apple Event, and rumored claims this event will happen on 14th September 2021.
As an Apple fan, what other innovations can you expect at this upcoming event of Apple? According to Bloomberg reporter Mark Gurman, Apple may confirm the new iPad Mini which will have thinner borders with no Home button. There may be an update on MacBook Pro and MacBook Air, and you may see the inclusion of a faster M1X chip on these devices to enhance the system's processing speed. 
If you are an Apple iPhone lover and want to upgrade your phone then, you may see the up-gradation of the iPhone 13 with a faster A15 chipset and an impressive energy-saving display that will enhance your device's battery life. You can also expect the pre-order opening slots for iPhone 13 from 17th September.