Apple Music will achieve a record of more than 75 Million songs available to Apple Music Customers soon.
To expand the classical genre music on its Music platform, Apple announced that it had acquired the most promising classical music streaming service Primephonic. Apple will launch a dedicated app to the classical genre music in 2022 for all Apple Music lovers.     
The acquisition will help Apple achieve the record of 75 million songs available to Apple Music customers and grow the Apple Music Library.
According to Apple's announcement and the interview of Cupertino-based electronics manufacturing company for a blog post- 
"The addition of Primephonic will help the Apple Music subscribers to enjoy improved classical music experience with the popular playlists of Primephonic and other exclusive audio content."
As per a report, the music tech giant mentioned that it would integrate all the required playlists and functionality of Apple into Apple Music to find it easy to access everything!
As per the record, the tech giant stated that the integration process would be smooth, and the result will be substantial in terms of improved classical music experience. Apple also announced that it would be launch a standalone classical Apple Music app in the upcoming days, probably in 2022.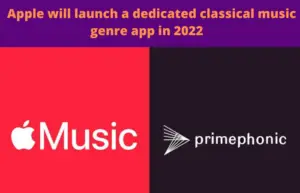 Classical music streaming service provider Primephonic shutdown!    
According to the report, Primephonic is now not allowing new customers to acquire their service; the subscription service of Primephonic has already shut down on September 7.
Apple clearly stated that Primephonic's playlist and exclusive audio content would initially be integrated into Apple Music for Apple Music users to experience the premium classical music and sounds. It will also add some of the best features of Primephonic, along with better browsing and search capabilities.
Users can easily access classical music by the composer and repertoire. You will also get all details of classical music metadata along with other benefits and new features. 
Update on dedicated classic genre Music App of Apple  
During an interview question on how seriously Apple is taking on classical music integration and classical fans, the company says- Apple is taking it seriously and working hard on it! Further added that Apple would launch a dedicated music app next year, probably in 2022, which will use the user interface of Primephonic that fans will love to use. 
What Primephonic says about the new idea of Apple?          
Primephonic is a famous classical music streaming service provider that was launched three years ago; according to the team members of Primephonic, this deal is everything about reaching more listeners and scale it up to the next level.  
In an interview, Primephonic company stated that as a startup, they failed to reach most classical music lovers globally, especially music lovers who listen to other genre music.
The company also agreed that to achieve its mission to reach more listens, it needed a leading music streaming partner that includes all music genres. There was nothing better option than Apple and their love for classical music. 
According to the Frequently asked question-answer section, the company mentioned that the customers with an active subscription would get a complete refund as per the terms and conditions and get the benefit of getting a redeem code of six free months of Apple Music. 
Also read- Apple Watch Series 7 Design, Rumors & Leaks