New rumors on the upcoming Xiaomi flagship smartphone(Xiaomi 12) suggest that it will entirely be focused on its camera. The setup will improve all aspects of photography with a triple camera setup and three powerful lenses as the primary one.
Highlights 
Xiaomi 12 might come with a powerful 50-megapixel camera along with a telephoto lens along with 5x Periscope.
It might be powered with Snapdragon 898 chipset.
You may get LPDDR5X RAM on this upcoming smartphone of Xiaomi 12.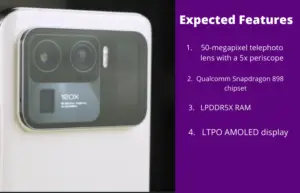 Nowadays, most users prefer a smartphone having top-notch camera quality. That's why most smartphone manufacturing brands focus on better camera quality on their new smartphones. Xiaomi is one of the famous brands known for its best quality devices.
Recently news came from an unknown source that a new flagship phone will be launched from Xiaomi, which will be fully focused on improved camera quality. This flagship phone is likely to be known as Xiaomi 12.
As per the speculations and rumors, Xiaomi may use three 50-megapixel power primary lenses. A new source also says Xiaomi will bring top-quality secondary lenses to offer higher resolution and better quality images in all aspects.
Recently Tipster Digital Chat Station shared information regarding the completely new setup of the upcoming Xiaomi 12, which might come with three primary lenses like50 megapixel telephoto lens, 50-megapixel main lens, and 50-megapixel ultra-wide lens. It is also claimed this flagship phone would become the best camera phone within its price range.
According to this post, the telephoto lens of the upcoming Xiaomi 12 will use a 5x periscope. No doubt recently Xiaomi tested its 10x PeriscopePeriscope, but according to the leaked news, it will stick on a 5X lens for practical focal length. Before, one report has also claimed that a 200-megapixel sensor was to be used on one of the upcoming flagship Xiaomi smartphones. Still, there is no such confirmation from the Xiaomi officials or any sources.
This post also comes with a clear disclaimer that all the specifications and parameters of Xiaomi 12 are still under the engineering verification stage and for reference only. So you might not find the exact specifications and parameters on this upcoming so-called Xiaomi 12 flagship smartphone.
Speculation of GSMArena on Xiaomi 12
As per the GSMArena report, they speculate that the Xiaomi 12 might come with an LTPO AMOLED display with an adaptive refresh rate of 120 Hz. This report also says this upcoming flagship phone will launch with a powerful Snapdragon 898 chipset processor and LPDDR5X RAM for faster processing and quick performance.
On the other hand, the Xiaomi 12 Ultra is expected to be launched in the second half of the next year and might come with Snapdragon 898 Plus SoC processor. As per the recent news, Xiaomi is ready to launch its new affordable flagship phones like Mi 11T and Mi 11 T Pro. As per the news, you will get the same display in these two variant budget flagship phones like Mi 11, a simple 120 Hz AMOLED panel. You might get Qualcomm Snapdragon 888 in the pro version and MediaTek Dimensity 1200 SoC in MI 11T.
Also read: Mi Smart Band 6 Goes on Sale