Next weak Amazon is going to attain its annual device and services event, and if there is one thing we can expect, it's a lot of Alexa enabled gadgets that may be very useful for you! According to a new report, Amazon is developing a big, wall-mounted Echo, a soundbar with an inbuilt camera, and new wearables.
The concept of Large Wall Echo from Amazon
According to the report, it's almost predictable that the large wall Echo sounds like the most possible launch in this upcoming event. This Echo would have a 15-inch display that can be fixed or placed on a stand. No doubt we are getting rumor news before about this device and the whole concept is that it would perform as a sort of digital commander canter.
Amazon apparently views this as a perfect device for the kitchen. This device not only assists you to watch videos while cooking, but it could be the central hub for your smart home. Many reports also say that Amazon is creating a push toward more Echo devices with displays because people incline to engage more with display-based devices than simply audio devices.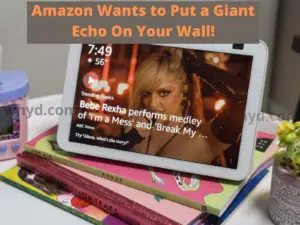 About the soundbar and its use
The report also claims that Amazon may also have a soundbar on the deck, though we note that the global chip crunch could disturb the product's shipping timeline. The soundbar would set itself apart from the competition by adding a front-facing camera for video calls and also for making calls to your TV. If that sounds conversant, it's only because Facebook is doing the same thing with its Portal TV devices, though that's only a webcam, not a soundbar!
It's undoubtedly an exciting take on a soundbar, which is a device most people buy because they need better sound than their TV's inbuilt speakers, not because they want to chat on Zoom. Though many soundbars on the market already support digital supporters, so possibly Amazon's tallying a camera to stand out from the crowd.
Maybe a Home robot and Alexa Powered Karaoke Mic!
Several reports claim that a home robot and an Alexa-based Karaoke mic may be in the works, and Amazon is eyeing a larger push into wearables which is very interesting and exciting for those who are waiting for the launch of wearable from Amazon. You might remember Amazon launched its Halo fitness tracker last year.
With that tracker, Amazon is apparently considering manufacturing a smartwatch for kids and a separate one for the elderly. The latter would integrate fall recognition, a feature that was first presented on the Apple watch and has since made its way to another wearable. In many other rumors, we have heard that Amazon has health ambitions, with a rumored Alexa device that could possibly detect sleep apnea.
It's still not clear that whether we will see all of these expected devices at Amazon's event next week. Some devices might end up with possible development issues.
But it's worth noting that the ground behind some of these products is Lab 126- the research and development division behind some of amazon's best and popular products like Kindle, Alexa, and Echo. Whatever people may predict, it's clear that Amazon's strategy has not changed at all as it is going to push out as many Alexa-powered devices as possible. Let's see what sticks according to their plan.
Also read: The New 'Rain Sound' in iOS 15 Is Way More Than Just a Relaxation Tool