On 15th September, Xiaomi will hold up a huge event where we can guess to see the launch of many new phones and probably its new tablets also.  But Xiaomi also had something special to show us today! It would be a surprise if this didn't include it as a part of the event tomorrow, or maybe Xiaomi wanted to take some of Apple's hype.
Nevertheless, we keep these things aside; we are now talking about the newly disclosed Xiaomi Smart Glasses. These are unexpected smart glasses; however, the firm posters them as an engineer's look towards a progressive future. Unfortunately, they are a "smart wearable device concept," not a definite product with a proper shipping date and price.  
The question is, why we say "unfortunately" is only because they sound very calm on paper and look like a simple pair of glasses, as you can see in the image. The report says the Xiaomi Smart Glasses Wight only 51 g and can display notifications for you, make calls and help you access photos and translate real-time text instantly; you will also get a teleprompter feature with these Xiaomi Smart Glasses.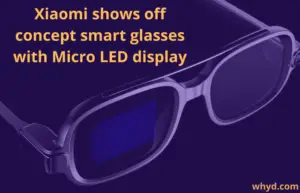 Details about the display of Xiaomi Smart Gasses              
When it comes to the display of this smart glass, it will be a Micro LED for backlighting, and the display chip measures only 2.4 mm x2.02mm, which is tiny, the company says. The individual pixels are sized at 4μm, allowing the display to fit perfectly within the glasses' frame.  The display will be an ultra-efficient monochrome panel, which can reach up the brightness of 2 million nits when required, and this feature can even help you look at sunlight directly.
According to Xiaomi, the MicroLED display has functioned on optical waveguide technology that reflects light at 180 degrees. So it precisely transmits light beams to the human eye via the microscopic grating structure of the optical waveguide lens.
Expected features and specifications of Xiaomi Smart Glasses  
The amazing structure of this smart glass imprinted the inner surface of the glasses lens, which always lets light be diverted uniquely, through bouncing light beams limitless times and permitting the ye to see a whole image appropriately. These processes are done within a single lens, not using complicated multiple lens systems, mirrors, or half mirrors.
The XiaoAI assistant is the main interaction method with the glasses.  This always helps the most important notifications get through you and never disturb you with a single notification on your phone. You can only see smart home alarms, crucial information from office apps, messages from important contacts, and other such things.
5 Mega Pixels camera with Xiaomi glass
When it comes to the glasses, these are fitted with dual beamforming mics and speakers, so you can easily take your calls on them. You will get a 5MP camera on the front side of the glass for pictures, and the Xiaomi Smart Glasses can record audio into text with real-time translation.
To enable all these essential functions, the Smart Glasses feature a quad-core ARM processor, touchpad, battery, WI-FI, and Bluetooth modules along with a version of Android software. However, we have no more details and specifications regarding this upcoming Xiaomi Smartglasses.
Until now, Xiaomi has released minimal information regarding this upcoming smart glass and not in detail, and that's why we take this product as a concept device only to showcase that Xiaomi is working on smart glasses for its future launch. That's doesn't mean we are telling you the exact featured base smart glasses for the future. Hopefully, the final product will arrive soon with much better features and advanced technology.