In the era in which technology is playing such an important role in our day to day life, knowing some hacks and some really important methods to use any device more efficiently makes our life easier. Learning how to turn on the keyboard light in windows and Macbook is one of them.
There are huge variations in options when it comes to turning on or turning off any function in multiple operating systems, Windows itself has multiple versions of operating systems like Windows 7, Windows 8, and Windows 10.
In a similar way, Macbook also has different versions but in most of the devices, some functional methods remain the same.
When we talk about certain functions of any operating device, those functions must be related to efficiency, and keyboard light is one of them.
Perks of having Keyboard Lights in your Laptops-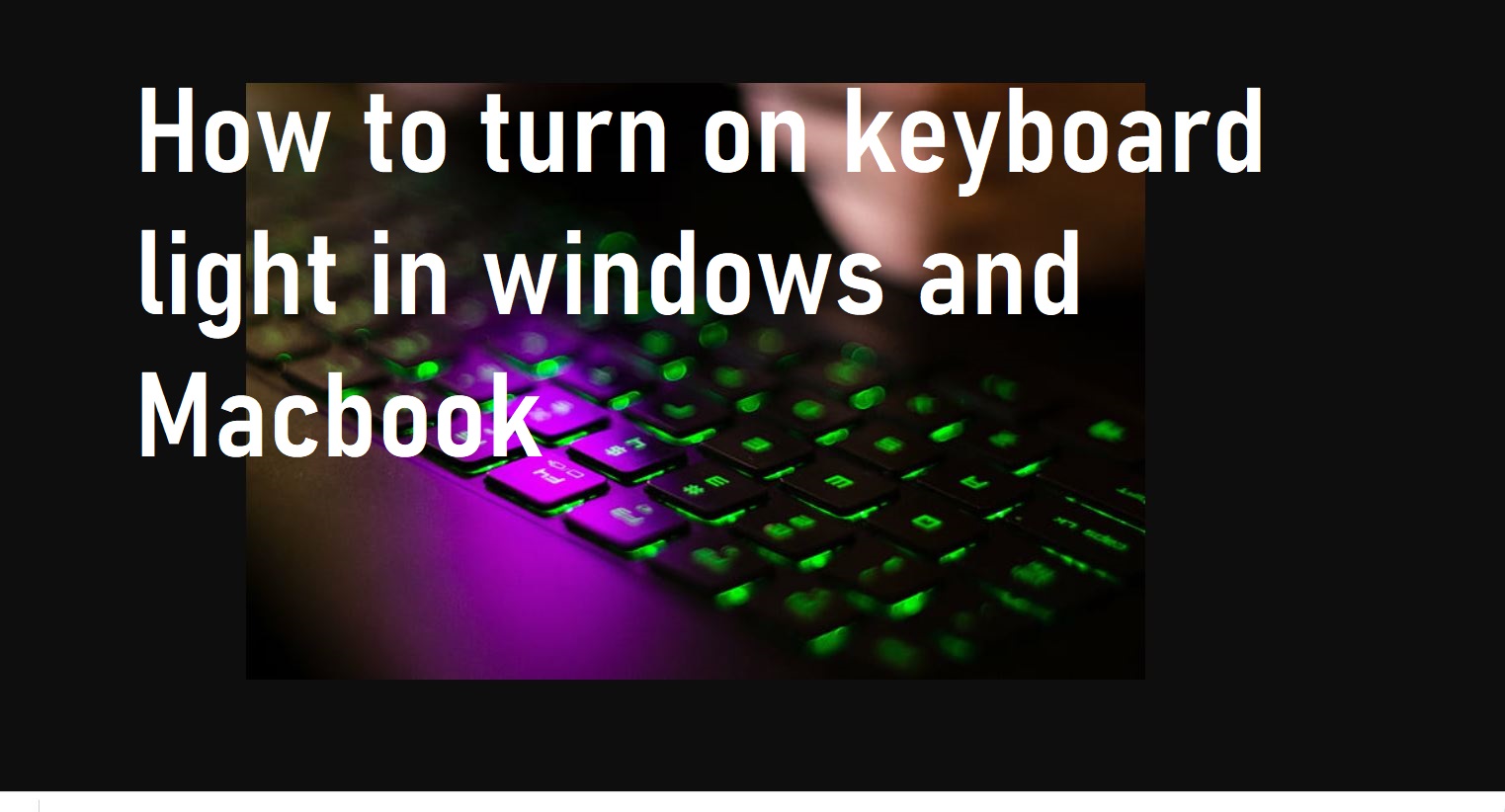 Keyboard light is related to visibility and this light allows you to focus on your typing and on your laptop in better by providing better exposure. Keyboard light allows better area and clear visibility which helps in improving your productivity.
The most important perk of having a keyboard backlight is that you can easily use your laptop in dark when your room partner or any family member is complaining about keeping the lights on. The backlight allows your keys to be clearly visible even in the darkest surroundings.
Backlight of your keyboard also allows you to improve your accuracy which another important factor related with productivity, with better visibility you can monitor in a better way that what you are typing.
Having a Keyboard backlight helps in improving our typing speed which ultimately saves a lot of time in anything, the light helps in getting more visibility and your hands move in a faster way on your keyboard.
How to turn on keyboard light in windows-
Windows is a bit easy to operate if we compare it to Macbook due to its easy-to-use portal and better UI, also Windows work on a universal operating system, and on the other hand, Macbook works on its own operating system due to security reasons.
Here is the complete guide with steps to turn on Keyboard light in Windows 
Navigate yourself towards the control panel, either by clicking on the start button or go for Window Button + R (the run command) and type control panel and then enter.

Once you are into Control Panel then look for the Windows mobility center this is the option that will have settings related to keyboard lights.

After that, you need to guide yourself to "Hardware and Sound" you need to click and open it.

Now you can see the option of windows mobility center and you can see the option to monitor and on off your keyboard backlight. You can scroll from left to right to enable it and from right to left to disable it.

You can also monitor the brightness of the light and click on ok to save your changes.
We have listed the steps to turn on and turn off the keyboards lights of Windows 10, this is the latest operating system on windows, most of the operating systems have similar steps and you will easily navigate yourself to these options.
How to turn on keyboard light in Macbook-
MacBook has its own operating system, Apple is the manufacturer and the great thing is that Apple provides backlight in its every laptop and it's not that difficult to get that option, it's just a bit different if we compare it with Windows.
Here is the complete step to turn on the keyboard light in MacBook-
The easiest way to do this is by doing a shortcut which is pressing F6, which allows you to increase the brightness or to on the keyboard light.

By pressing F5 the lights will decrease and you can turn it off.

By pressing F5&F6 you can see a gradual increase and decrease in the lights.

To get the detailed options guide yourself to the system preferences and there will be an option of the keyboard on the top bar, you can set the settings on automatic as well and you will have many other useful options related with keyboard light there like turning off the light due to inactivity for certain durations, etc.
This is how you turn on keyboards lights in windows and Macbook, hope it was useful, Happy Learning!
Also, Read- Apple Watch New Features