Roku's budget boxes and Amazon's economical firesticks are the two most popular cord-cutting platforms if you're searching for a cheap, easy method to obtain streaming video from Netflix, Amazon Prime, Disney Plus, HBO Max, Hulu, YouTube, and other services. With having similar features, today's biggest issue is picking between the two video streaming gadgets. 
While they both do a fantastic job in their respective roles, choose which one to use for all of your Netflix and chill needs might be tricky. However, when it comes to usability and functions, there are some variations between Roku and Firestick. 
Similarity Between Roku and Firestick
Both are extremely reasonable.
Both have access to a staggering number of television applications, including all of the main ones. 
On both, the majority of apps look and act the same.
As long as you have a stable internet connection, the latest Roku and Fire TV devices are nearly identical in terms of speed, responsiveness, and reliability.
Both offer remotes with TV volume and power buttons to control most TVs (except the cheapest Rokus), so you can remove the remote that comes with your TV if you aren't switching between inputs.
Both have a variety of models, ranging from simple streamers to 4K-compatible versions with built-in voice control.
Both apps are available on iOS and Android.
Difference Between Roku and Firestick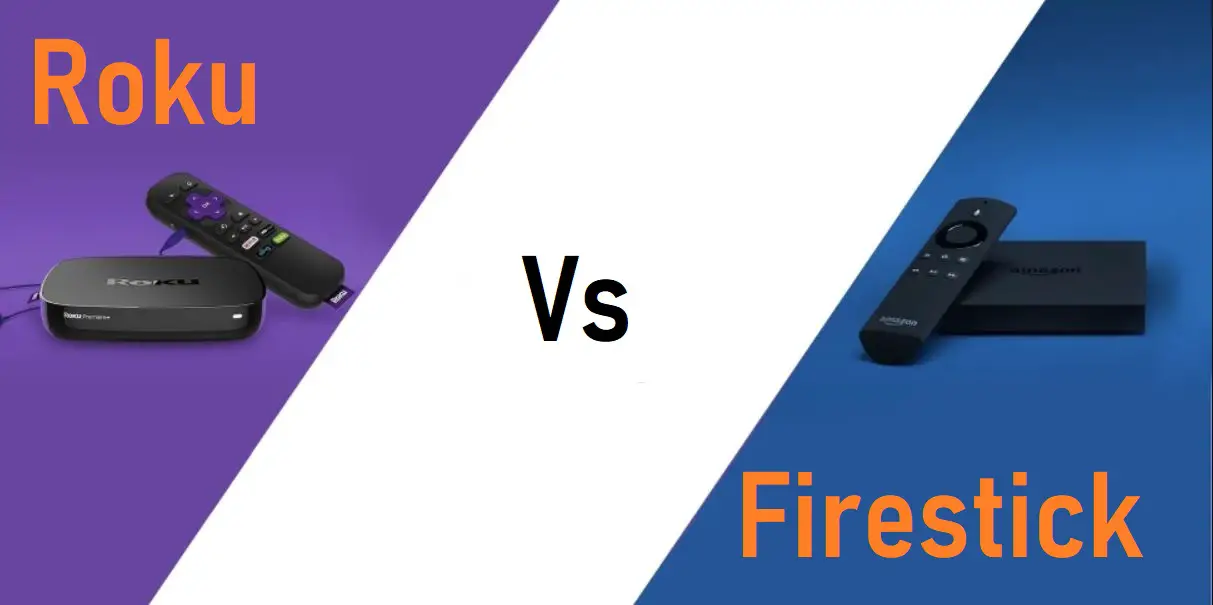 Better Menus:

Roku's simple menu design puts the apps in the spotlight and allows you to rearrange them as you see right, much like on your phone. It rapidly delivers me to the apps and shows I want without cluttering up the screen.
In addition to the apps, using a Fire TV device entails navigating through a slew of TV series and movies. That would be OK if they were TV shows and movies I'm currently watching or could be interested in viewing.
Pricing:

Both devices are around the same price at the base level, but when we look at the first 4K option for both, the Firestick costs a lot more. With everything in mind, as well as what's offered with more options, we had to award Roku the victory in this round.

Better search:

Roku's search options make it simple to find specific content, and its "my feed" feature keeps you up to date on new episodes and other content. It's also simple to add channels or to organize them so that your favorites are easy to find.
On the other hand, the Firestick does not allow you to arrange your apps. Instead, it prioritizes the most frequently used programs. It's still simple to use, and it displays recommendations based on what you've already viewed, as well as new subscription service additions.
Streaming Channels:

The most popular services, such as Netflix, Hulu, Amazon Prime Video, HBO Max, and others, are available on both Roku and Firestick. The Roku Channel, Roku's own free channel, is also available on both devices
Roku, on the other hand, offers access to a wide range of apps, or "channels," as Roku refers to them. On Roku, you may also find a lot of free stuff.
Picking One
Roku has taken the lead in most of the rounds. But that doesn't rule out the Firestick as a viable streaming device. In truth, which one you should select is mostly a matter of personal preference.
In terms of price and streaming platform access, Roku and Fire Stick are comparable. One isn't clearly superior to the other. You'll have access to Peacock and The Roku Channel with Roku.
On the other hand, if you have been considering buying an Amazon Prime membership anyhow, the free month of Prime with a Fire TV Stick could be a tempting deal.
Also, Check – How to Host on Twitch