Howdy trainers in Mexico, United Arab Emirates and Taiwan? Hopes you are doing well! Attention! After the completion of Pokémon GO Tour: Johto, Niantic is landing its first ever live Pokémon GO Tour events in select locations on Sunday, 27th February 2022!
The fresh Pokémon GO TOUR Live events are ticketed events that will cost around US$25.00, and they are going to feature an alike involvement like preceding years GO Fest Evets. To us, these events feel like mini-GO Fest events at hand-picked locations.
Without further discussion, here are some of the details on this upcoming event! Read till the end of this post to know some exciting information regarding this upcoming event.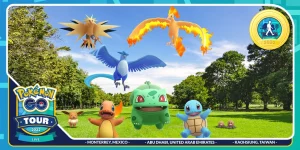 Pokémon GO Tour: Live Event 2021 List
The Pokémon GO Tour: Live event will have happened at the following locations
Monterrey, Mexico at Parque Fundidora
Kaohsiung, Taiwan at the Taiwan Lantern Festival
Abu Dhabi, United Arab Emirates at Yas Bay
All the tickets are going to be US$25 in the event's local currency equivalent with additional taxes and fees and also available for purchase on the official website of Pokémon GO Tour.
You will soon see "Tickets available" next to the Pokémon GO Tour: Live event ticket if it has not sold out yet. Event gameplay will be accessible only to the given locations at a specific time and date.
Remember tickets to this event are non-refundable according to the terms and conditions. Tickets will work like first come, first serve and will be available for buying while supplies last.
Let's discuss the features of this upcoming event!
Features
Real-world themed habitats, each with their own Collection Challenges!
You will be capable to complete up to six Special Trades during event hours: 10 am-6 pm local time.
You will be able to admittance event-exclusive Special Research.
Take some snapshots for a surprise!
Eggs placed in Incubators during the event will need one-quarter the usual walking distance to hatch.
You will get the chance to earn twice the Candy from hatching Eggs.
You will get the chance to earn extra Candy from catching featured Pokémon originally discovered in Kanto.
You will get up to nine free Raid Passes from spinning Photo Discs at Gyms.
You will get a special in-game medal.
Unusual stickers will be available from PokéStops and Gifts.
Confetti will be appearing on the in-game map during the event.
Real-life photo-ops and lounge zones will be obtainable in the park.
Exclusive merchandise will be accessible at select locations.
Also Read: Pokémon Go Holidays 2021 Complete Event Guide