The Pokémon Go Community Day 2021 comes with a monthly event highlighting a specific Pokémon that inspires players to get out and play together globally.
In every event, you will see better and increased spawns of the Pokémon for a short time, and provide them an exclusive community Day move for their final progression along. Players can get many attractive bonuses and advantages during this event. If you love to play Pokémon Go and want to know more about the Pokémon October Community day, then you are at the right place. Today, we will give you detailed information on community day and the upcoming October community day. So let's start with more details.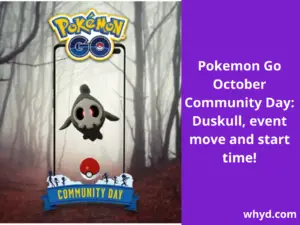 What is Community Day in Pokémon Go?
When it comes to the community day in Pokémon Go, this event usually takes place on one weekend day every month and lasts up to six hours. In these 6 hours' players can get bonuses such as double XP, Stardust, and additional incentives to play more, including highlighted Pokémon having more chance of being shiny and the ability to reach the evolution of highlighted Pokémon. Overall you can say this event offers great resources and a rare version of highlighted Pokémon.
When is Pokemon Go's October Community Day?
Many of you may be waiting for the October community day of Pokemon Go, and the good news is it will take place on Saturday, 9th October from 11 am. To 5 pm in your local time zone.
October's featured Pokemon: Duskull
On the upcoming October community day, the ghost kind of Pokémon Duskull will be the star. During the event, the wild Duskull will spawn much more repeatedly than usual, and that definitely gives you the chance to catch the ghost Pokémon and stock up on Duskull candy.
In addition to regular Duskull, players will be capable of encountering Shiny Duskull during October's Community Day. This variant will be very rare, but you will increase the chances of encountering one by using incense.
October Community Day move: Shadow Ball
Suppose you are fortunately able to get the Dusclops (which is the evolved form of Duskull) and evolve it into Dusknoir during October Community day. In that case, it will habitually learn the ghost-type charged attack snowball. Dusknoir usually can't learn this move in a standard Pokémon Go game, but here is an excellent chance for you to get this. You can try out till 7 pm in your local time which is two hours after the event ends, to get this Dusclops to evolve and learn Shadow ball.
 October Community Day bonuses
To increase Duskull spawns, you can get few other in-game active bonuses during this October's Community Day. Any Lure Modules you use during the event time will remain active for three hours rather than their usual duration, which is very short. Moreover, you will also earn three times the usual amount of Stardust for catching Pokémon, which is a big plus point of this event.
October Community Day bundle and Research tasks
Players will get a special item bundle on sale in Pokémon Go's in-game shop during this October's Community day. This bundle will cost around 1,280 Poke Coins and includes some items like
50 Ultra BALLS
4 Incense
4 Star Pieces
1 Elite Charged TM
That's not everything; Niantic will offer a free bundle of 30 Ultra Balls in Pokémon Go's item shop. You will also get free research tasks to end during this event. If you successfully complete these events, you will get the reward for Sinnoh Stones, which are necessary to evolve Dusclops into Dusknoir. So are you excited for the October Community Day? If yes, then let us know under the comment section.
Also Read: EA May Be Preparing To Start Work On New UFC 5