Money Heist, the critically acclaimed Spanish crime drama series, will return to Netflix for its final season. Season 5 of Money Heist will be split into two parts, while the first aired on September 3, 2021, and now, viewers around the world are eagerly anticipating part two. Money Heist Season 5 Volume 2 trailer has been posted ahead of its premiere.
Netflix released the full-length commercial trailer for Money Heist season 5 "Volume 2" on Diwali Eve on Wednesday. Money Heist Season 5 Volume 2 has also received a slew of new photos from Netflix.
Tokyo (Úrsula Corberó) is no longer alive. The opponent is still lurking at the Bank of Spain, crippled but still lethal. Faced with their toughest task yet, the group devises a daring scheme to have the gold out without people knowing. To complicate things further, the Professor (Álvaro Morte) commits the biggest blunder of his lifetime. The Professor is troubled by his acts and the consequences, while his heist squad and special forces prepare for all-out combat within Spain's Royal Mint.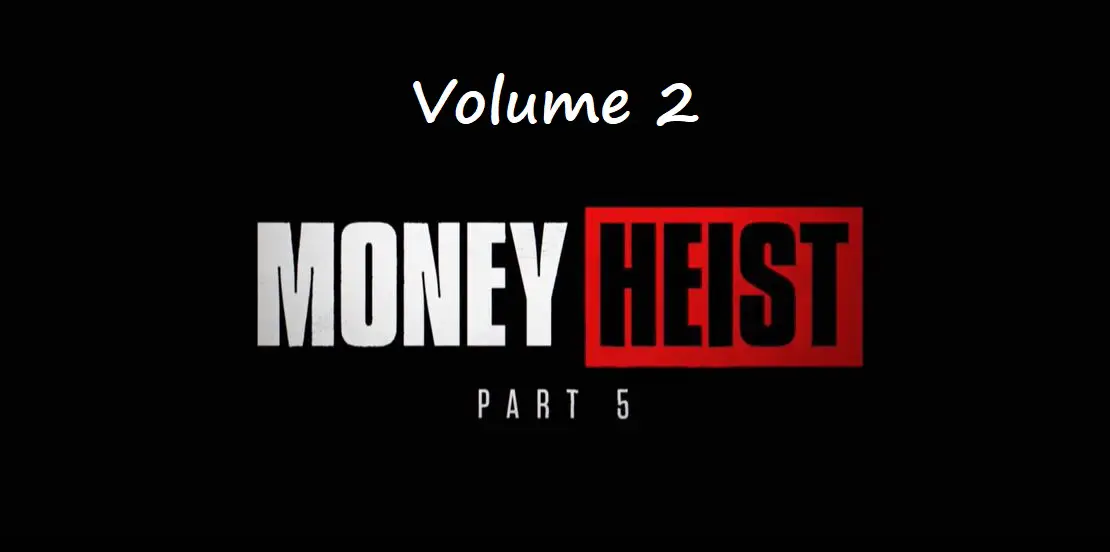 Netflix has dubbed Money Heist season 5 "Volume 2" in the title cards and narrative as the conclusion of the world's biggest heist. After calling the shots from the background for the preceding five seasons, the Professor finally joins the game in the new Money Heist trailer. Professor has eventually chosen to accompany his colleagues at the Bank of Spain in the wake of Season 5 Volume 1's favorite Tokyo's death.
Also, Read- Netflix Horror Show Hellbound Trailer 
Money Heist Season 5 Volume 2 Trailer and Story
Seeing the trailer, the Money Heist Season 5 Part 2's story will take up from the cliffhanger at the end of volume 1 of season 5.  For nearly 100 hours, the group has been locked up at the Bank of Spain. They managed to save Lisbon, but now they are facing a tough time after losing a group member. Sierra has kidnapped the Professor, and he doesn't have an evacuation plan for the very first time. When it appears that nothing else could possibly go wrong, an enemy arrives who is far more deadly than any they've encountered before. 
Money Heist was created by Vancouver Media, a television production business started by Alex Pina in late 2015 with the goal of creating unique programs. Pina is the developer of Money Heist, as well as an executive producer with Jess Colmenar and Cristina López Ferraz. Money Heist season 5's lead writer is Javier Gómez Santander.
Money Heist season 5 cast members include Pedro Alonso as Berlin, Jaime Lorente as Denver, Esther Acebo as Stockholm, Hovik Keuchkerian as Bogota, Belén Cuesta as Manila, Enrique Arce as Arturo, Luka Peros as Marseille, Fernando Cayo as Coronel Tamayo, and José Manuel Poga as Gandía apart from the main characters played by Morte, Corberó, Herrán, Nimri, Ituño, Serna and Perić. Patrick Criado as Berlin's son Rafael, Miguel Ángel Silvestre as Tokyo's ex-boyfriend René, and José Manuel Seda as army head Sagasta are all new additions to Season 5.
Money Heist Season 5 Volume 2 Release Date
Because the final chapter of "Money Heist" is just the second half of a single season, Netflix has already revealed when Part 2 will be released. The release date of Money Heist Season 5 Volume 2 is December 3, 2021, three months following the premiere of Volume 1. This is fantastic news for longstanding fans of the series since it means, they did not have to wait much to see the series' end, but it's also heartbreaking because this will be the series' grand finale. Now, we will have to wait till December 3 to get all of our queries solved!