NATO Countries List-NATO now has 30 countries. Belgium, Canada, Denmark, France, Iceland, Italy, Luxembourg, the Netherlands, Norway, Portugal, the United Kingdom, and the United States were the Alliance's 12 founding members in 1949. 
Greece and Turkey, Germany, Spain, Czech Republic, Hungary, and Poland, Bulgaria, Estonia, Latvia, Lithuania, Romania, Slovakia, and Slovenia, Albania and Croatia, Montenegro, and North Macedonia are the other member nations.
NATO now has 30 members: 27 from Europe, two from North America, and one from Eurasia. The nations are listed below, along with the time they joined: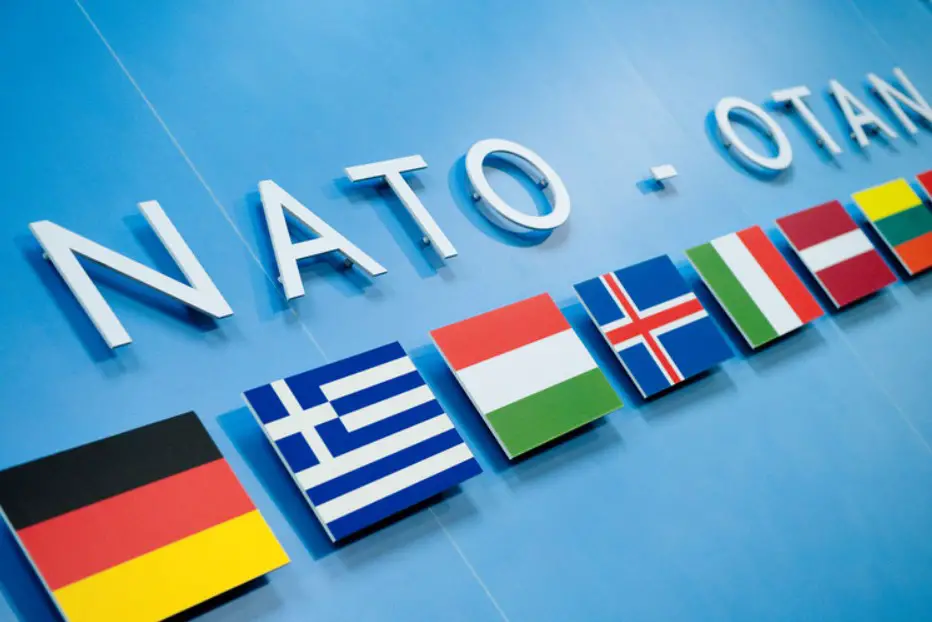 NATO Countries List 2022
Here are the full NATO countries list
Albania (2009)

Belgium (1949)

Bulgaria (2004)

Canada (1949)

Croatia (2009)

Czech Republic (1999)

Denmark (1949)

Estonia (2004)

France (1949)

Germany (1955)

Greece (1952)

Hungary (1999)

Iceland (1949)

Italy (1949)

Latvia (2004)

Lithuania (2004)

Luxembourg (1949)

Montenegro (2017)

Netherlands (1949)

North Macedonia (2020)

Norway (1949)

Poland (1999)

Portugal (1949)

Romania (2004)

Slovakia (2004)

Slovenia (2004)

Spain (1982)

Turkey (1952)

United Kingdom (1949)

United States (1949)
Ukraine has sought to join NATO, and has yet to get formal approval. However, it is one of the body's "enhanced opportunity partners."
This designation is accorded to non-member nations that have "contributed considerably to NATO-led activities and operations," such as Australia & Sweden.
NATO membership is unlikely to materialize anytime soon, given Ukraine's current turmoil. A new nation must be unanimously authorized by NATO members, with issues such as "unresolved foreign territorial conflicts" being taken into account.
NATO formed a Ukraine-NATO commission in 1997, which allowed for discussions on security matters and allowed the NATO-Ukraine relationship to progress without an official membership declaration.
Despite the fact that NATO has no plans to send troops to a non-member nation, it has dispatched soldiers to surrounding countries and officially supported Ukraine.
Founding Members:
Foreign ministers from 12 nations signed the North Atlantic Treaty (also known as the Washington Treaty) on April 4, 1949, in the Departmental Auditorium in Washington, D.C: Belgium, Canada, Denmark, France, Iceland, Italy, Luxembourg, the Netherlands, Norway, Portugal, the United Kingdom, and the United States.
The Treaty was passed by the parliaments of the interested nations within five months of the signing ceremony, thereby securing their membership.
NATO membership flexibility
Countries freely pledge to participation in the Organization's political discussions and military actions when they sign the Treaty. Despite the fact that every signatory to the North Atlantic Treaty is bound by the Treaty's commitments, there is some freedom that allows signatories to choose how they engage.
What does NATO's role entail?
The North Atlantic Treaty Organization (NATO), sometimes known as the North Atlantic Union, was established in 1949. Its objective is to preserve the safety and liberty of its members by political or military means.
The North Atlantic Treaty Organization (NATO) was founded in Washington, DC in April 1949. Its headquarters are in the Belgian capital of Brussels.
In terms of politics, it strives to foster democratic norms by allowing members to consult and collaborate on defense and security matters in order to solve difficulties, create trust, and, in the long run, avoid war.
NATO said it is "committed to the peaceful settlement of conflicts" when it comes to military action. It has the military authority to conduct crisis-management operations if diplomatic attempts fail.
It employs a collective security system in which its autonomous member nations pledge to mutual defense in the event of an external assault. The organization, on the other hand, can form alliances with external powers.
Click For More News – Whyd