Are you a big fan of Pixel smartphones? Still, Eagerly waiting for the next release of the Google Pixel 6 and Pro series? If yes, then this is a piece of good news for you, because Pixel 6, and the Pro series is coming soon. Truly, fans are over-excited about the release of Pixel 6 and the Pro version and waiting for significant upgrades over the current semi-range Pixel 5. According to the source, this time, Pixel 6 and pro series comes with an eye-grabbing twin-toned style and Tensor processor, unique Android 12 features like dynamic shades for the advanced "Material You" well-optimized camera sensors.
With all these unique and innovative specifications, Pixels can suddenly be the most stylish and best-performing smartphone in its price range in the upcoming days.
No doubt both Pixel 6 and Pixel 6 pro comes with spectacular design. When it comes to Pixel 6 will be available with a variety of shades like soft yellow accent, black edition, light grey top, pink and bluish-grey. The Pixel 6 PRO lines up in a blend of black & grey, light orange with a bolder orange accent and white with a cream accent bar.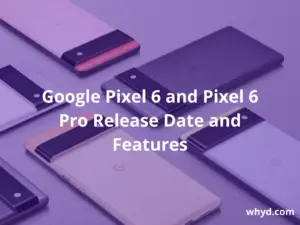 Google Pixel 6 Release Date
Google recently announced the new Pixel 6 series release date, and this new Pixel smartphone will be available in the store from October 19. This handset will be available in eight countries like Australia, Canada, Germany, France, Japan, Taiwan, United States and the United Kingdom.
Google Pixel 6 Features  
Processor
The latest Pixel series will feature with a powerful Tensor soC chip, which originates its name from TPU (Tenson Processing Unit). Google uses its data centres locations all around the world. You can say Tensor is not a system on a chip and also not a standalone processor.
No doubt this is a Google-made chip, but we still don't know which parts were designed by Google and which are from others. No matter what, we all know that Google will be offering two things for certain, the latest Titan M2 processor for security and mobile TPU for Ai optimisation operation. GPU, CPU and 5G modem support are still a surprise you may get in this smartphone.
Display and Battery
When it comes to the phone display, people are always curious to know what Google can provide. For confirmation, you may get Pixel 6 fits a 6.4 inch AMOLED+ Full HD display this time and a punch-hole cutout. This 6.4-inch display will be powered by the in-built Google made chipset, which is rumoured to contest Qualcomm's Snapdragon 870 SoC.
The latest Pixel series are sturdy and come with a 120Hz refresh rate display which is always expected with the Pixel series. When it comes to the operating system, both Pixel 6 and Pixel 6 Pro will support Android 12 OS with a 4,614mAh battery so that you can get the most out of your away charger adventure.
Camera storage and Optics
Pixel 6 will feature a dual-camera for optics and camera, including a 12 MP ultra-wide-angle lens and a superb 50MP primary wide-angle sensor. In addition to these two beasts, users can also get an 8 MP front camera for video calls and selfies.
Pixel 6 will be available in two variants, 8 GB RAM partnered with 256 GB and 125 GB internal storage. Now you will never get the storage issue on your smartphone. The upcoming Pixel series is guessed to have arrived with a 33 W fast charging feature and power bricks included in the package.
Google Pixel 6 fingerprint sensor
Many speculations were about the fingerprint sensor of Google Pixel. Still, now it's clear that Google will place its fingerprint sensor at the backside of the phone and the under-display fingerprint reader on pixel 6. Overall, if you mark the complete upgrade on Pixel 6 pro and Pixel 6, it's just remarkable and definitely run faster and smoother than Pixel 5. There is no such update on the fingerprint sensor, whether it will be an optical scanner or utilises ultrasonic tech.
There is not much information regarding the upcoming Pixel series, but the fact is that Google is going to its two beast smartphones soon in the name of Pixel 6 and Pixel 6 Pro. What's your thinking on these two Pixel handsets? Let us know under the comment section.
Also Read:17 Things You Can Do in iOS 15 That You Couldn't Do Before