A Big Question is Here – Can You Play PS4 Games on PS5?
The PlayStation 5 (PS5) is a popular video game system among game enthusiasts. When compared to the PlayStation 4, it has more advanced hardware and greater performance (PS4). There are many reasons to appreciate the PlayStation 5: It comes with an outstanding game controller, distinctive games that boot extremely instantaneously, and 3D audio that can be used with any headphones. 
Its "backward compatibility" is a great feature that renders the switch from PS4 to PS5 very easy. Sony claims that "99 percent" of PS4 titles are playable on the PS5. If you possess a PS4, you'll most probably be able to enjoy all of your old and finest PS4 games on it perhaps when you upgrade to a PS5.
Which PS5 edition is apt for PS4 games?
You must have wondered what's the distinction between operating on a PS5 Digital Edition system and a PS5 with an Ultra HD Blu-ray disc drive when it comes to PS4 games? Both versions will provide the same gameplay experience. However, there will be a difference in how you acquire the media to play:
PlayStation 5: Digital Edition
On the PS5 Digital Edition console, you'll be capable of playing digital copies of your supported PS4 titles. These would be PS4 digital titles that you have bought or intend to purchase through the PlayStation Store on PS4, PS5, the web, or the PlayStation smartphone apps.
You won't be capable of playing your PS4 disc-based applications on the PS5 Digital Edition because it lacks a disc drive.
PS5 with Blu-ray disc drive in Ultra HD
Digital copies of supported PS4 titles acquired through the PlayStation Store can be played on the PS4, PS5, online, or PlayStation mobile app. Tangible PS4 game discs could also be employed.
When you check in to PS5 with your PlayStation Network profile, the interface will instantly display your collection of played PS4 material. Make that the PS5 console is up to date with the most recent system software update and that all applicable game updates are installed.
What's it like to play PS4 games on the PS5?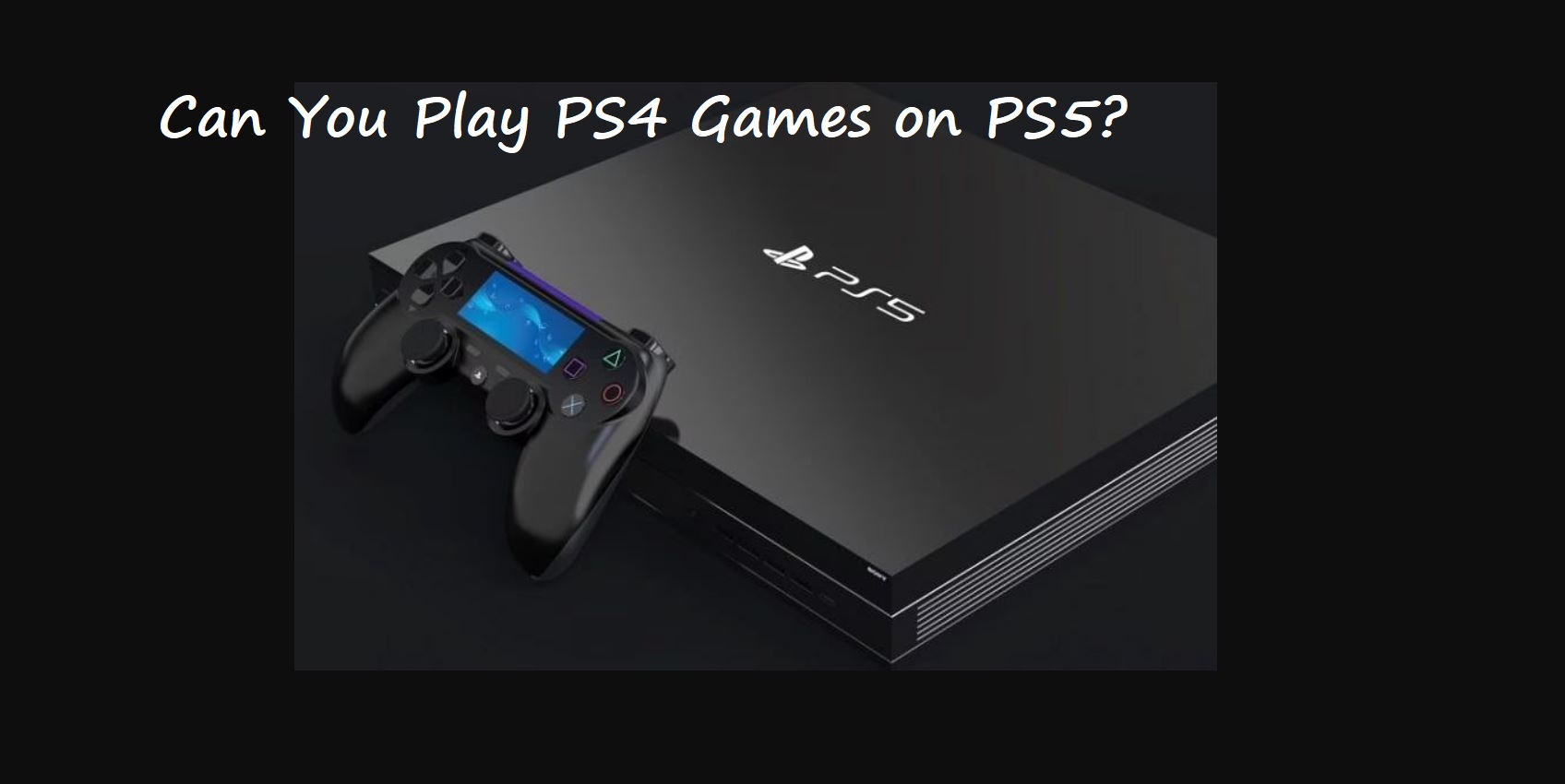 PS5 games are even better than PS4 games. Select PS4 games will benefit from faster loading times on the PS5 console, as well as Game Boost, which will improve or stabilize frame rates. Greater fidelity may be seen in some games with unlocked frame rates or dynamic resolution up to 4K. PS4 games will also benefit from some of PS5's new user interface elements.
PS4 Games which cannot be played on PS5
Here's a list of games that are only playable on the PS4:
Afro Samurai 2 Revenge of Kuma Volume One

Hitman Go: Definitive Edition

Just Deal With It!

Robinson: The Journey

Shadwen

TT Isle of Man – Ride on the Edge 2

We Sing
What's the deal with PS4 game transfers and saves between both the consoles?
LAN cables or wireless connections can be used to transmit digital games, game data, and game presets from a PS4 console to a PS5 console. If you have PS4 games and game data saved on an external drive attached to your PS4, you can use that external USB storage device to transfer them to PS5. If you have a PS Plus membership, you can also use cloud services to sync PS4 game data to your PS5.
Please keep in mind that the functionality to transmit game saves between PS4 and PS5 versions of the same game is a creator decision that varies by title for cross-generational games.
Also, Read- Destiny 2's Class Items Should be Reworked
How to have the best experience of PS4 games on PS5?
You'll need a powerful entertainment setup to fully experience the greatest PS4 games on PS5. On the PS4 Pro, most late-generation PS4 titles may run at 4K or 60 frames per second. Many games, when optimized for PS5, can accomplish both at the same time. Presumably, you'll be connecting your PS5 to a 4K TV. Since almost all 4K televisions and monitors offer 60 Hz, there's no need to be concerned about the framerate.
Whilst PS5 allows you to play PS4 games with the DualShock 4 controller, several games have acquired patches that include compatibility for the Dual Sense controller on the PS5. 
Drawbacks while playing PS4 games on PS5 
There are also a few features that aren't available while using backward compatibility on PS5 to play PS4 games. A few of the issues you may observe are listed below.
It's impossible to play a PS4 game that you updated from a PS3 game on the PS5. In order for it to work, the game must be a PS4 native version.

Tournaments on the PS4 are not permitted on the PS5.

PSVR does not support the PS5 HD camera.

On PS5, the Share option cannot be accessed while playing PS4 games. Nevertheless, Dual Sense's Create menu appears to operate just well.
Although these titles will be playable on PS5, there might be some issues. Such titles are stated in the list below;
A Summer with the Shiba Inu

Active Soccer 2 DX

American Ninja Warrior: Challenge

Anomaly 2

APB Reloaded

Ape Escape 2

Arcade Land

Batman: Return to Arkham – Arkham City

Battlezone

Call of Duty: Black Ops 4

Call of Duty: Infinite Warfare

Chicken Police

Clan N

Close to the Sun

Crossout

Darius Cozmic Collection Arcade

Daylight

Dead Island Retro Revenge

Dino Frontier

Disney Classic Games: Aladdin and The Lion King

Doki-Doki Universe

DOOM VFR

Dungeon Rushers

Entwined

EVE: Valkyrie – Warzone

Everybody's Golf

Feral Fury

Filthy Lucre

Flinthook

Frisky Business

Game of Thrones

Hardware: Rivals

Hellblade: Senua's Sacrifice

How to Survive: Storm Warning Edition

Kickbeat Special Edition

Lara Croft and the Temple of Osiris

Mafia III The Complete Edition

Mafia III: Definitive Edition

Manhunt

Metal Slug Anthology

NBA 2K19

NBA 2K20

Need for Speed

NHL 19

Nobunaga's Ambition Souzou

Nobunaga's Ambition: Sphere of Influence

OKAGE: Shadow King

Paddle Vs. Paddle

Pinball Arcade

PixARK

PixelJunk Shooter Ultimate

Prey

Primal

Pro Evolution Soccer 2018

Pro Evolution Soccer 2018 LITE

Project CARS

Project CARS GOTY Edition

Realm Royale

RIGS Mechanized Combat League

RISK

Roundabout

Saint Seiya: Soldiers' Soul

Sea of Solitude

Shuttle Commander

Sleeping Dogs: Definitive Edition

SMITE

Space Junkies

Star Ocean Second Evolution

Star Ocean: Till The End Of Time

STAR STRIKE ULTRA

STAR STRIKE ULTRA VR

Super Stardust Ultra VR

Survive Said The Prophet VR Experience

Sword Art Online Re: Hollow Fragment

Teenage Mutant Ninja Turtles: Mutants in Manhattan

Tennis World Tour

The Walking Dead: Season 1

The Warriors

Tooth and Tail

True Fear: Forsaken Souls Part 2

Until Dawn: Rush of Blood

Valhalla Hills

Velocity 2X

Werewolves Within

WRC 8 FIA World Rally Championship

Zero Escape: The Nonary Games
Nevertheless, you can still enjoy your PS4 games on your brand new PS5!