When it comes to composing music, whether you're a beginner or a pro, you want people to like it for the beats and, more importantly, the tuning. The next thing you'll need is beat making software so you can learn, remix, and edit sound clips all at the same time. Using beat making software allows you to brush up on your skills while also teaching you how to easily create your own music. You may quickly produce loops and create fresh sound clips for your own composition with beat making software. 
Top 5 Beat Making Software Free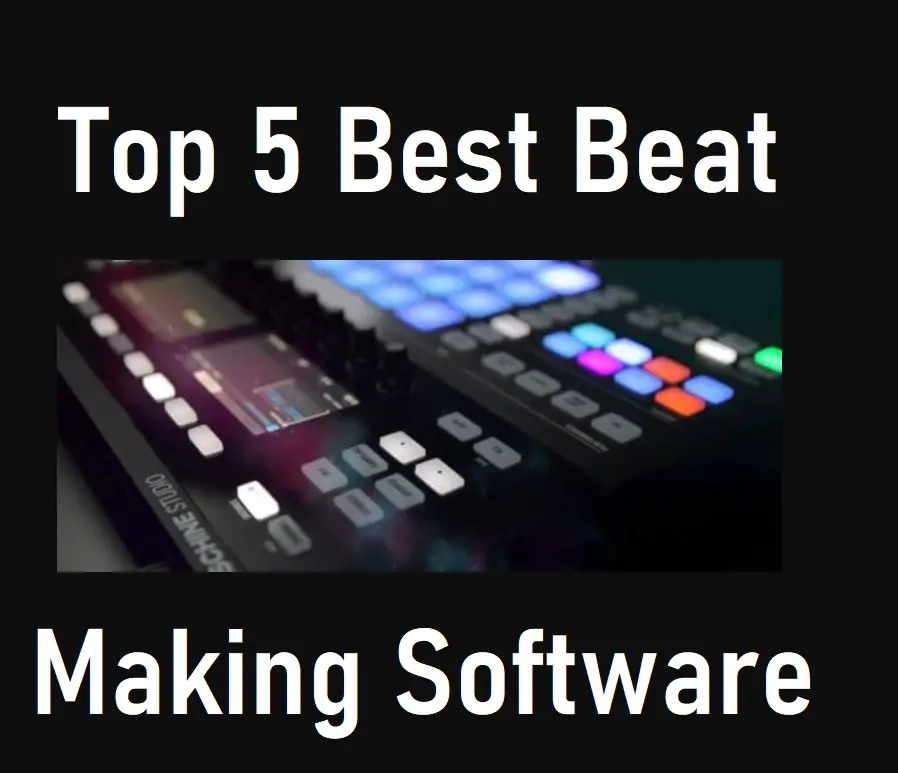 When it comes to choosing the best beat making software, it can be overwhelming, especially if you're a newbie. So, in order to make it easier for you to find the finest beat-making software for polishing your talents, we've compiled a list of the top five best beat making software.
Key Features: 
425 free loops

24 virtual instruments

Easy to use

Too basic for some

Compatible with PC only
This software ranks #1 in our list of top 5 beat-making software since it comes with 425 free loops and a staggering 24 virtual instruments straight out of the box. It's suitable for both beginning and advanced producers, and it's simple to learn and use. It comes with both a free and a premium version, allowing you to try it out first before purchasing it. 
Key Features:
Genre-specific 

Great customization and usability features

Free upgrades available

Recording and editing process
This software, formerly known as FruityLoops, is well-known in the hip hop genre, and comes with 500 songs as standard, making it ideal for quick and easy production. It works very swiftly and efficiently because of features like numerous configurations that function so well and the ease of using time signature markers. It can be used to create beats as well as a complete production system, offering you the best of both worlds. Coming with a purchasing package it also has some free upgrades.
Key Features:
Free to use

Works on Mac and PC

MIDI pattern generator
With Waverform's free version, you can have all of the high-quality features of a paid-for DAW in a free tool. It's ideal for both beginners and experienced producers, as it includes everything you'll need in one package. It's a complete package for all your music compositions, with features including several time-saving and MIDI tools.
Key Features:
Free to use

Great automation

Rhythms and sounds database

Learning curve
This software, which is designed exclusively for drum beats, is free and offers a number of useful tools for beat composition. Its features such as automation aid innovation, while the drum naming tool makes it simple to save and identify new instruments.
Also, Read- Setup PCSx2 Bois 
Key Features:
Great virtual instrument selection

Intuitive interface

Free loops and samples

Works on Mac only
Apple Logic Pro, which does not have a free version but is reasonably priced, is an excellent alternative for generating beats. It has a big virtual instrument collection that allows you to start from scratch while making music. It even allows you to customize your virtual drums to create a unique set of beats for whatever you are working on.
Which Beat-Making Software To Choose From Above?
If you're a newbie who is just learning how to make beats and compose them, remain with MAGIX because it will help you comprehend the fundamentals of beat creation more easily and best beat making software. 
If you're not a complete newbie but have some experience with beat-making and want to brush up on your skills, FL Studio is a good option because it comes preloaded with 500 songs, making it ideal for rapid and easy production.
If you have a Mac and are looking for a beat maker that is compatible with it, Apple Logic Pro is a good option because it includes a large virtual instrument library that allows you to start from scratch while composing music and learn more about it.