Meat Loaf, the classy rock superstar praised by millions for his "Bat Out of Hell" album and for such histrionic, dark-hearted anthems as "Paradise by the Dashboard Light," "Two Out of Three Ain't Bad," and "I'd Do Anything for Love (But I Won't Do That)," has passed away.
The lead singer born Marvin Lee Aday expired Thursday, conferring to a family announcement posted on his official Facebook page.
"Our hearts are shattered to declare that the unmatched Meat Loaf passed away tonight," the declaration said. "We know how much he meant to so many of you and we really appreciate all of the love and care as we move over this hard time of sorrow in losing such an inspirational musical artist and lovely man. From his heart to your souls…don't ever break rocking!"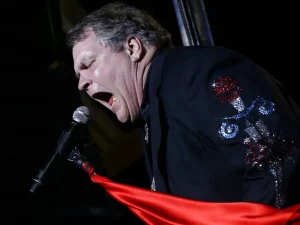 No reason or other specifics were specified, but Aday had numerous health scares over the years.
"Bat Out of a Hell," his highest-selling association with songwriter Jim Steinman and producer Todd Rundgren, came out in 1977 and made him one of the most widespread performers in rock. Fans fell rigid for the thriving vocals of the long-haired, 250-plus pound singer and for the funny non-romance of the title track, "You Took The Words Right Out of My Mouth," "Two Out of Three Ain't Bad" and "Paradise By the Dashboard Light," an operatic advisory story about going all the way. "Paradise" was a duo with Ellen Foley that introduced play by play from New York Yankees broadcaster Phil Rizzuto, who assumed to much skepticism that he was ignorant of any substitute gist to attainment third base and heading for home.
After a sluggish start and diverse reviews, "Bat Out of a Hell" turns out to be one of the highest-selling albums in olden times, with universal sales of more than 40 million copies. Meat Loaf wasn't a constant hit creator, particularly after dropping out for years with Steinman. But he preserved handy ties with his fans over his overexcited live shows, social media, and his numerous television, radio, and film arrivals, including "Fight Club" and cameos on "Glee" and "South Park." His major musical achievement after "Bat Out of Hell" was "Bat Out of Hell II: Back into Hell," a 1993 get-together with Steinman that sold more than 15 million copies and introduced the Grammy-winning single "I'd Do Anything for Love (But I Won't Do That)."
Aday's additional albums comprised "Bat Out of Hell III: The Monster Is Loose," "Hell in a Handbasket" and "Braver Than We Are."
Everything you should know about Meat Loaf  
An instinctive of Dallas, Aday was the son of a school teacher who raised him on her own afterward separating his alcoholic father, a police officer. Aday was singing and acting in high school and being present at Lubbock Christian College and what is now the University of North Texas. Among his more noteworthy childhood memories: Seeing John F. Kennedy come to at Love Field in Dallas on Nov. 22, 1963, then erudition the leader had been murdered and driving to Parkland Hospital and viewing a bloodied Jackie Kennedy step out of a car.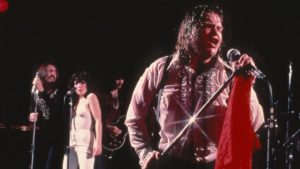 He was still an adolescent when his mom expired and when he attained the nickname Meat Loaf, the unproven ancestries of which range from his weight to a favorite recipe of his mother's. He left for Los Angeles after college and was soon facing the band Meat Loaf Soul. For years, he spread out amid music and the stage, soundtrack briefly for Motown, inaugural for such performances as the Who and the Grateful Dead, and coming into court in the Broadway production of "Hair."
By the mid-1970s, he was playing the lobotomized biker Eddie in the theater and film versions of "The Rocky Horror Picture Show," had aided as a standby for his friend John Belushi for the stage creation of National Lampoon and had initiated working with Steinman on "Bat Out of Hell." The solid, thrashing creation was flexibly partial by Wagner, Phil Spector, and Bruce Springsteen, whose bandmates Roy Bittan and Max Weinberg played on the record. Rundgren firstly supposed the album as a caricature of Springsteen's magnificent style.
Steinman had known Meat Loaf since the singer give the impression in his 1973 musical "More Than You Deserve" and some of the songs on "Bat Out of Hell," including "All Revved Up with No Place to Go," were primarily inscribed for a deliberate stage show based on the story of Peter Pan. "Bat Out of Hell" took more than two years to discover a taker as abundant record administrators turned it down, as well as RCA's Clive Davis, who belittled Steinman's songs and recognized that he had miscalculated the singer: "The songs were coming over as actual dramatic, and Meat Loaf, despite a powerful voice, just didn't look like a star," Davis wrote in his memoir, "The Soundtrack of My Life."
With the assistance of another Springsteen sideman, Steve Van Zandt, "Bat Out of Hell" was attained by Cleveland International, a secondary of Epic Records. The album made little influence until months after its release when a concert video of the title track was aired on the British program the Old Grey Whistle Test. In the U.S., his fitting together to "Rocky Horror" assisted when he influenced producer Lou Adler to use a video for "Paradise By the Dashboard Light" as a promo for the cult movie. But Meat Loaf was so little recognized at first that he began his "Bat Out of Hell" tour in Chicago as the inaugural act for Cheap Track, then one of the world's hottest groups.
"I recall dragging up at the theater and it says, 'Tonight: Cheap Trick, With Meat Loaf.' And I said to myself, 'These people think we are serving dinner,'" Meat Loaf clarified in 2013 on the syndicated radio show "In the Studio."
"And we walk out on stage and these people were such Cheap Trick fans they hooted us from the very beginning. They were getting up and giving us the middle finger. The first six rows stood up and shouted but When we finished, most of the boos had stopped and we were nearly getting clapping."
He is lived by Deborah Gillespie, his wife since 2007, and by daughters Pearl and Amanda Aday.