Today one video is trending on popular social media Twitter which shows the popular Garuda Indonesia airlines shaking in the air when it attempts to land in an unidentified airport before it crashes lands.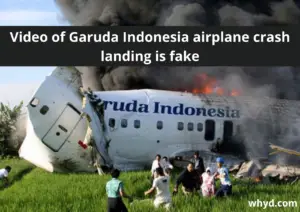 An adjourning clip shows people gliding down an aircraft which definitely shocked many people who saw it on social media platform Twitter.
嘉魯達印尼航空
Garuda Indonesia pic.twitter.com/hpwfwspeSA

— Otto Huang  (@OttoHuang120) September 17, 2021
New claims for the old video which already exist on YouTube
However, the clip was not a real one but a technically computerized work that was allegedly published by one YouTube user-Bopbibum on 2nd May 2020.
The clip which shows people sliding down the aircraft doesn't belong to the computerized clip.
The 37-second video shared on Twitter on 9th Jan 2022 has crossed almost 8.1k views and 183 retweets within a few minutes.